Another Year Living at Rose Hill
By Mel Oles, Visitor Services and Program Manager at Rose Hill Mansion and Johnston House
It has been another wonderful year living at Rose Hill. Living on the grounds of a historic site can be a truly unique and rewarding experience.  It offers a chance to be immersed in the rich history and culture of the area, as well as an opportunity to live in a beautiful landscape.
The benefits of living at Rose Hill can range from providing security for the site to saving on gas with no commute to work.  Another great advantage of living at Rose Hill is the sense of connection with the past.  Waking up each day to the same views and surroundings that have been enjoyed for generations can create a deep appreciation for its historical significance.  Living on a historic site also offers the opportunity to learn about and preserve the history of the area, by being involved in its maintenance and upkeep.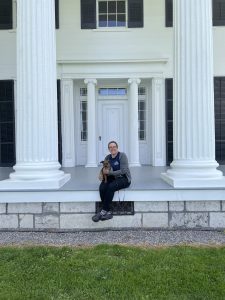 Of course, living at Rose Hill also comes with its challenges.  Living in a tourist destination can mean seeing visitors at any time.  I can interact with visitors first thing in the morning while walking my dog in my pajamas or in the evening when I'm enjoying the sunset with a cup of tea.
Overall, however, the benefits of living at Rose Hill far outweigh any drawbacks.  For those with a passion for history, architecture, and the Finger Lakes, it can be an incredibly fulfilling and enriching way of life.  I know the luckiest and happiest "person" here on site is Seneca (my dog).