Mission Moments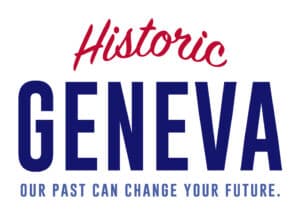 Whether its programs, exhibits, collections, or online content, we tell Geneva's stories.  Let us share a few mission moments with you –
Several years ago, as a volunteer project in our Archives John Robortella transcribed Colonel Hugh Maxwell's fieldnotes about the Pre-Emption Line. Recently he published the fieldnotes as part of the book Steps West: The Field Notes of Col. Hugh Maxwell (1733–1799) — Pre-emption Line and Land Surveys in the Phelps and Gorham Purchase in New York State.
While touring Rose Hill Mansion last fall a Eastman School of Music student noticed sheet music by the composer Stephen Foster Ah! May the Red Rose Live Always. Though she recognized Foster she was not familiar with the song.  She asked permission to photograph the sheet music so she could use it in a recital.
Research requests are received in person, over the phone, via or through social media. In addition to family history, houses, and buildings, questions included lacrosse, haunted places in Geneva, author Sarah Bradford, Sampson Naval Base, and the Farmer's Market.
Rose Hill Cottage offers a one-of-a-kind experience.  The three-bedroom, one bathroom home is a vacation rental on the grounds of Rose Hill. Since 2022 people from around the United States have stayed in the cottage while visiting the Finger Lakes.
The Dyer Arts Center in Rochester showcases artworks created by artists who are deaf, hard of hearing, and/or allies of the Deaf community. Their exhibit Shaped by the American Dream: Deaf History through Deaf Art included paintings by Genevan Frances Marion Tuttle from our collection.
By sixth grade students have visited our sites at least once, participated in one classroom program, and experienced two off-site programs. In 2022 1,347 students attended programs held inside and outside the classroom.
After several postponements due to the pandemic, we've held jigsaw puzzle competitions.  Teams compete to finish a 500-piece Geneva themed jigsaw puzzle in under three hours.
The Geneva Storyteller Awards honors individuals, businesses and organizations who are telling stories from Geneva's past and present. Honorees have included Lillian Collins, FLCC Geneva Center Campus, Geneva Public Library, Lake Drum Brewing, Water St Café, and Professor Chris Woodworth and HWS Theatre students.
Through the support of our Geneva community, far and wide, these and other mission moments are made possible.
Have you attended a concert at Rose Hill, History Happy Hour or one of our lectures? Enjoy our Facebook or Instagram posts, weekly blog articles or short videos? Visited the Geneva History Museum or Rose Hill Mansion? Used our research room or submitted a research request?  Had a child or grandchild participated in Cemetery Stories, Tales of Christmas Past or Taking Tea?  Went on one of our bus trips? Donated an item to our Archives or 3-D collection?  If you said yes to any of these questions, please donate to our Fall Support Campaign.
You can contribute to our Fall Support Campaign by filling out and submitting this form. We appreciate every contribution, because, when combined, they ensure that we can continue to share Geneva' s stories – your stories – with audiences today and for years to come.