#museumalphabet, Part 1
To bring their collections to people at home, museums around the world have gotten very creative in sharing items through social media campaigns.  Among the campaigns have been bouquets, creepiest objects, moments of zen, museum pets, and the best bums.  One campaign we participated in was #museumalphabet.  Over 26 days we shared items from our collection in alphabetical order.  For each letter we also asked our Facebook and Instagram followers to share a person, place or event from Geneva that began with the profiled letter.  Below are some of the suggestions for letters A to M.  Do you have additions?
A
Acme Market
Ada St.
Algonquin Hotel
Alice's Kitchen
Almarco Printing,
American Legion
American Torpedo Company (Canco during WWII)
Andes Stove Works
Appleknockers
Area Records
B
Avenue B
Beacon Street
Bell Avenue
Bennett Street
Brian Drive
Brook Street
Burrall Avenue
Bullock's
Baroody's
Bushlack's Sunny Fruit Market
C
Carter Road
Civic Center
Cosie's
Club 86
Cosentinos
Cam's Pizza
FA Churchs
Captain's Room
Center of Concern
Castle St. 
D
DiDuro's Shoe Store

D'Amico Chrysler Dodge Jeep
Doran Ave
Dorchester Ave
Delancey Drive
Downy Flake Donuts
Devaney's funeral home
Deluxe
DeSales High School
Drennan Memorials
 E
Esso gas stations
Elm St
Elmwood Ave
E. Miller & Son Feed Store.
Avenue E
Elmwood Place
Ethel Abraham's Shop
Eddie Kenny Carpets
Elm trees
Elston electronics
The Elephant
Experiment Station
Emilie's
F
Friendly's Ice Cream
Family Bargain Center
Fink's
Finger Lakes Federal Credit Union
Friendly Ford
Fannie Farmers candy store
Fairfax Bro's
Finger Lakes
F.W. Woolworths
Flounge
 G
Geneva Public Library
Gilbert's Jewelry store
Georges Candy Kitchen
Genesee Street
Green Stamps Redemption Store
Gigliotti's Gas Station
Geneva Country Club
Geneva Forge
Geneva General Hospital
Guards Cards
H
Hobart College
Home Dairy
Hydrant hose fire company
Henry McDonald
Headley's Liquor Barn
High Street School
Haag Electric
Hamilton St.
 Hydrobowl (hydroplane inboard boat races)
Hildreth Hill Neighborhood Association
I
Immigrants
International Paper
Sons of Italy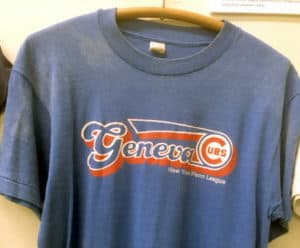 J
Jeannette St.
Jefferson Park
Jay Street
J &M Pants
JT Hobbies
Jellybeans
Jordan Hall
J.W. Smith's
Joe's Hots
Jones Beach 
K
Kashong
Knights of Columbus
Klopfers
Keilty's
Kiwanis Club
Kirkwood hotel
Kanadasaga
Kresge's
Karizma
Kindred Fare
 L
Lazio's
Lewis Street School
Long Pier
Lafayette Inn
Linden Street
Loblaws
Lyons National Bank
Lehigh Valley Railroad
Lynch Furniture
Lochland School
M
Mello-Rich ice cream
Market Basket
Madia's
Margaret O'Brien's children store.
Mario's Restaurant
Margrove's Ice Cream
Monaco's
Mr. Twistee
Middle Street
Maxwell Ave