My Geneva Is …..
By Karen Osburn, City of Geneva Historian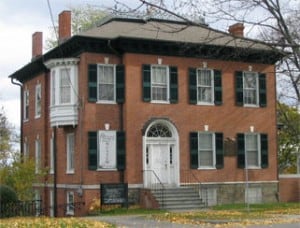 My Geneva is…the people who live here. The first time I set foot in Geneva was to visit the museum and see an exhibit.  It took a long time to find Prouty-Chew House.  I went around and around and around 5&20, Hamilton Street and finally Exchange Street without locating South Main Street, never mind the history museum.  I blame poor signage, not poor map reading on my part for getting lost.  Of course, at the time there was no GPS, and readily available directions on websites were few if they existed in the early 1990s.
The second time I came to Geneva I made sure I knew how to get to Prouty Chew House because I was applying for the archivist's position.  When I was offered and accepted the position, I thought I was so lucky to work in such a beautiful place!  The row houses, the Colleges, the old buildings downtown were all steeped in history and had tremendous eye-appeal for me.  However, when I had the opportunity to move to Geneva I came for the people.  Working at the Historical Society meant I was moving to an area where I already knew people and had made some friends.
The people I have met in this city are, for the most part, warm, friendly, open, and generous. The citizens of Geneva turn out to support festivals, parades, music events, cultural programs and food events to name a few things.  They volunteer for Cruisin' Night, Strawberry Festivals, church fund raisers (sometimes when it isn't even their church), historic programs, Seneca7, and many other events. The Genevans I know contribute their time and money to help the Geneva Public Library, Geneva Reads, Geneva General Hospital, Geneva Historical Society, the Community Lunch Program, the Boys and Girls Club, the Center of Concern, and more.
When I lived in an apartment, I had good neighbors, now that I own a house here I, again, have good neighbors! Neighbors share food, snow blowing out each other's driveways and sidewalks, and the occasional block picnic. In the 20 years that I have worked and lived in Geneva I have met wonderful people who are now dear friends.
I think what makes a city great is not the architecture, the beauty of its surroundings, the weather, the stores, or the factories and businesses.  All those things contribute to a desirable place to live, but without a friendly, caring populous to breath life into a city it becomes a sterile and stultified place.  Geneva is a living, breathing, ever changing place thanks to the folks who live here.
Welcome to Geneva!