My Geneva
By Kerry Lippincott, Executive Director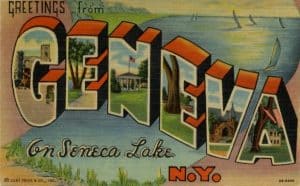 Last week the first installment of our exhibit, Geneva A to Z, opened. Geneva A to Z is basically an alphabetical catalog of Geneva. Every six months we will tackle a different set of letters. The first set of letters is A to G. Of course, this got me thinking what represents Geneva to me.
Doctors – Both my brother and I were born in Geneva General Hospital. Before it moved to Lewis Street, our pediatrician's office was located on North Street. As someone who has worn glasses since the age of eight, annual visits to Mason Street Optical was the highlight of my year.
Restaurants – Growing up my family had a tradition of going out dinner on the Fridays nights. This often meant Alice's, Pronti's, Perkins or Pizza Hut. Before my junior prom my friends and I had dinner at Mario's, and the following year we celebrated my 18th birthday at Nonna's. My first "grown-up" dinner (no parents and I used my own money) was at Cobblestone. And I can't forget Friendly's. For five years I lived in Kansas and there are NO Friendly's in the entire state of Kansas. A visit home was not complete without at least one visit to Friendly's.
Smith Opera House – From the ages of 5 to 11, I danced my way across the stage for an annual dance recital. I also think my love of the theater can be connected to a production of The Nutcracker.
Elizabeths (or the three Elizabeths) – An interest of mine is women's history and the first Elizabeth is Elizabeth Blackwell. In recent months, however, I've discovered two other Elizabeths – painter Elizabeth Carson and Elizabeth Ricord.
Stores – Lots of stores come to mind. Browsing in Guard Cards or the Village Store. Trips with Dad to purchase concerts tickets at Area Records. I've forgotten the name of the store but it was on Seneca Street and it was one of the few places that sold Anne of Green Gables products. Buying candy for my grandmothers at Fanny Farmers. Many pairs of shoes were purchased at the DiDuro's.
History – My own family history is deeply connected to Geneva. My great-grandparents lived on Pulteney Street. Cal was a volunteer fireman and Ada worked as a cleaning lady at the colleges. Both of my grandmothers graduated from Geneva High.  Grandma Updyke worked her entire career at the American Can and Grandpa Lippincott was the maintenance man at an apartment complex. During her college years, Mom student taught in the Geneva City School District. My parents met at Mario's and during their first few years of marriage they lived in various apartments around the city.
Routes 5 and 20 – During the summer of 2003, I had an internship at the Women's Rights National Historical Park in Seneca Falls. Twice a day for three months I drove through Geneva on Routes 5 and 20.
Home – Happy to call Geneva home.
What's your Geneva? Come see Geneva A to Z and share your own stories.