Opening Rose Hill Mansion For The Season
By Mel Oles, Visitor Services and Programs Manager at Rose Hill Mansion and Johnston House
Over the winter we close down Rose Hill Mansion.  The furniture and most objects are covered with sheets. This is done to protect them from sun damage and dust.  The water is turned off and the heat is turned on low. The mansion is able to rest for a few months.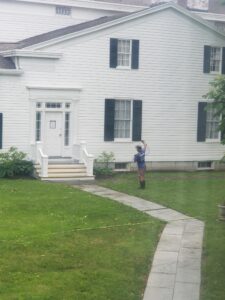 Opening the mansion involves removing all the sheets, labeling them and storing them in the linen closet.  We do a lot of cleaning preparing for visitors. This year the windows were cleaned, the furniture was dusted, and the exterior of the mansion was even power washed.
During the 1850s to 1890s the domestic servants who worked for the Swan family did similar tasks.  Ideally, the work of cook and housemaids should proceed like clockwork, without disrupting the Swan family's morning routine.  It was expected that cook rise as early as 4:00 am to get breakfast ready for the Swan family and their guests.   Breakfast in a well-to-do American household of the mid-19th century was a hearty affair, often using leftovers from the previous day's dinner to make dishes such as meat hash and meatballs.  This saved time for the cook in the early morning.
The housemaids would rise around 5:00 am and they would open the shutters.  We open the mansion's shutters before the first tour of the day.  The housemaids would then put down protective druggets to cover the carpets, then clean out the grates of the dining room and sitting rooms.  Each fireplace would need to be cleaned every day, and the ashes removed. Having re-laid and lit the fires, they would sweep and dust each room, polish the brass, clean the lamp glasses and candlesticks, brush the stair carpets and front hall.  They would then carry up hot water to the bedrooms so that the family could bath or wash.  Wash basins and chamber pots would be discreetly removed from the bedrooms and carried down the servant staircases. The mansion has servant staircases in each wing of the mansion.  While the family was at breakfast the beds were made and bedrooms swept.
Once the family finished breakfast, the housemaids would be expected to clear the breakfast table, and then they might sit down to their own morning meal in the kitchen. The housemaids' duties were essential to maintaining the mansion for the Swan family.  Today we do it for our visitors.
To learn more about the domestic servants, farm laborers, and the families at Rose Hill Mansion please join us for a tour.  The tour schedule, admission and information can be found on our website. We hope to see you soon!
Historic Geneva tells the stories of Geneva, New York.  Discover  these stories online and in person through the Geneva History Museum, Rose Hill Mansion, and Johnston House.