Keeping Your Archive With Us
By Becky Chapin, Archivist
Did you know that our archives houses the collections of active community organizations? It could be that the groups don't have the space at home to keep records or organizational papers are spread through the homes of various members. But if you keep your organization's archive with us, we can organize and house the materials all in one space.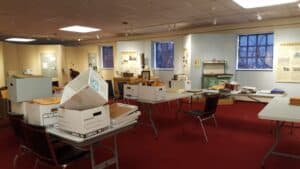 A couple of years ago, the Geneva Woman's Club asked me to come take a look at their records in their building. These records began at the founding of the organization and spanned decades of materials through present day; and none of them followed a standard filing system.
I took a carload of materials from the Woman's Club to the Geneva History Museum and over the course of a week I worked on organizing the materials. The records were eventually sorted in a variety of ways and included minutes (with separate folders for different officer files), department/committee files, building matters, and financials. During the months we were closed in 2020, I took these boxes home and worked on an item-level inventory which ended up being 96 pages long, housed in 6 large boxes. (This material is in addition to 8 archival boxes that were already in our collection)
Eventually, I was able to return a number of boxes to the club which we did not need to keep in the archive, like tax filings, etc. Because we provided this service to the Woman's Club, they did not need to go through the process of combing through the boxes nor discerning the filing system of the many different officers that passed through their doors in over a century. Now, they have an inventory in case they need to access the files we have in the museum and can easily ask me to pull out what they need. They also have the option of adding to their collection on a yearly basis, for materials such as minutes and photographs.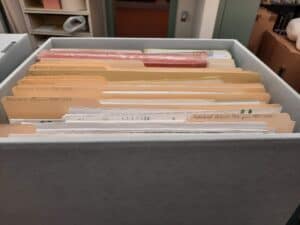 The Eaton Birding Society and Catherine Foster Hopkins Art Reading Club already do this with us. Both organizations have designated one person to collect and donate materials to us on a regular basis to ensure their organizational histories are preserved.
Your organization also has this option. Here at Historic Geneva, we want to preserve the stories of our entire community and we can do this in a number of ways.
Organizations can keep their archives on loan to us and we will not do anything except ensure they are stored and housed in archivally appropriate material. We can monitor for degradation of material and alert members to potential problems.
Organizations can donate their archive to us and we will fully process the materials which includes activities like rehousing materials in unstable containers (ex. binders), removing unstable materials (ex. staples), and possibly imposing order to make access easier. Then each year, a member of the organization will meet with archivist to add new materials into the collections.
We can provide advice to current organizations about their archives and other opportunities for us to help, including digitizing materials deemed most important to the group and keeping them in the museum's digital archives, backed up on a daily basis.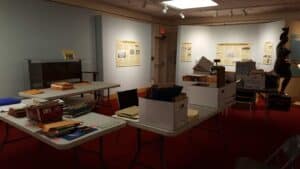 There are options available for individuals as well. We regularly take in donations from community members who are building up their family files and want to share their finds with us. If you're interested or have questions about the process, please feel free to email me at archivist@genevahistoricalsociety.com or give me a call at 315-789-5151. We can schedule a time to meet and discuss options for your organization.