Spring at Rose Hill
By Mel Oles, Visitor Services and Programs Manager at Rose Hill and Johnston House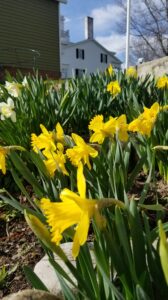 There is energy in the air at Rose Hill.   Spring has arrived and tulips are starting to bloom. The robins and red wing black birds have come back.  We are getting ready to open the buildings to the public.  There has been a lot of activity around the site making sure everything is ready for visitors from down the road to across the world.
We are excited to welcome four new tours guides to the team – Kerry Adams, Rebekah Clark, Dawn Jendrick, and Christine Murphy.  There are also four returning tour guides (Maryrose Arimoto, Cindy Austin, Joan Burch, and Nancy Wright) and we are so pleased they are returning for another season.  From leading tours, to selling tickets and merchandise in Gift Shop to helping visitors with questions the tour guides provide many services at Rose Hill.  They are one of the reasons why Rose Hill runs like a well-oiled Victorian machine.
Instead of going to the mall or ordering online, visit our Carriage House Visitor Center and Gift Shop for local products or one-of-a-kind gifts.  The merchandise ranges from vintage finds, history books, children's games, and handmade and Christmas ornaments. Thera are also several new items this season.    All proceeds from the Gift Shop support our mission of telling Geneva's stories.
Over the winter months we have worked on kiosks for Rose Hill Mansion and Johnson House.  These educational panels will help orient the visitors, give information about the sites, and add another opportunity for our visitors to experience each site.  The panels are in the process of being finalized and we hope to have them installed by early summer.
There is always work to be done with historic buildings, but we have the team that is motivated to get it done.   Over the winter several areas in the Mansion were painted and organized.  All the buildings have been power washed.  The Mansion is being deep cleaned after all the work that was completed over the winter months.
Rose Hill Mansion will open for guided tours Tuesday, May 3, 2022.  It will be open Tuesday through Sunday through October. The tour schedule, admission and other information can be found on our website.