Twenty-first Century Collecting
By John Marks, Curator of Collections
Every time I see the year 2000 in print, I have to remember that was 21 years ago. It always comes as a surprise to me. It was yesterday, right? But another expression of time is that we're one-fifth of the way through the 21st century. No jet packs, no flying cars….but that's a discussion for another time.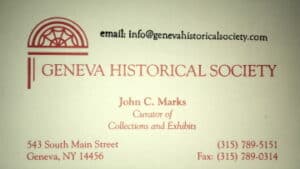 It's time to think about preserving the last 20 years of Geneva history. All local museums face the challenge of getting their communities to donate items from the recent past. We think about what should be saved for 50 or 100 years from now, and most people don't have that view. When a person says, "This isn't historic," I reply, "It will be if it survives long enough." With our name change on July 14, our business cards are now a document of the past.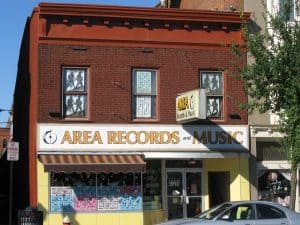 The staff does their part. When Area Records closed, I asked Mike George for anything he'd like to donate. We ended up with one half of the illuminated sign that hung over the sidewalk. We've saved event T-shirts, like Seneca 7 and Whale Watch.
The staff doesn't speak for the community. As our My Geneva Is… exhibits emphasize, everyone has their own pieces of the community. Was there a favorite business that closed and you have something from it? A special event for which you have photos, a poster, or shirt? Something from your job or a business that's still current? We don't need to wait for a closing or something to end to collect.
Historic Geneva is a community scrapbook. Some people save few things and take few photos. (I admit I'm a person that "lives in the moment," doesn't take photos, and doesn't write down who's in the pictures. Do as I hope, not as I do.) Other folks document everything, and we want the museum collection to be like those people.
It's never too early, or too late, to donate items about Geneva to our collection. The fun part of my job is answering the phone and hearing what people have saved. You can give us a call at 315-789-5151, tell us what you have, and make an appointment to come in.
Historic Geneva tells the stories of Geneva, New York.  Discover  these stories online and in person through the Geneva History Museum, Rose Hill Mansion, and Johnston House.