From Zoology to Metaphysics: College Courses in 19th and 20th Centuries
By Becky Chapin, Archivist
These days, colleges offer so many classes to students, it's hard to keep up with the changing academia. From Surviving the Coming Zombie Apocalypse at Michigan State University, Coffee 101 at Oberlin Experimental College, How to Stage a Revolution at Ohio State University, and (my personal favorite) The Science of Harry Potter at Frostburg State University, your course schedule could be anything but general education these days.
The Archives boasts a number of course catalogues for the colleges and specialty schools that  once, or still have, made their home in Geneva. According to a July 17, 1822 advertisement, the Geneva Academy, which would become Hobart College, offered reading, writing, arithmetic, English grammar, geography, Latin and Greek languages, mathematics, rhetoric, metaphysics, moral and natural philosophy, elements of history, and the evidences of Christianity.  The Academy also advertised that it could accommodate both sexes, though, of course, instruction would be given in separate rooms.
Mrs. Ricord's Female Seminary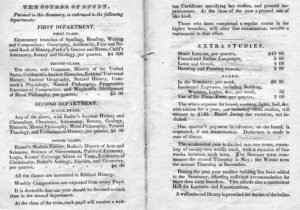 opened in 1829 and offered a number of courses for young women. A catalogue dated 1837 details the course load for the ladies who attended the school, which numbered 245 that year. In the image on the left, you can see the ladies took classes in anything from botany, astronomy, and philosophy up to science of government, evidences of Christianity, and geometry.
Early catalogues for Hobart College list a number of classes for each year a student is enrolled in a course of instruction. Those enrolled in the 1850s in the Department of Mathematics and Physical Science would take
algebra, geometric, trigonometry, conic sections and analytical geometry, natural philosophy, astronomy, calculus, chemistry, anatomy and physiology, meteorology, and mineralogy and geology.
Enrolling in the Greek and Latin Languages and Literature department led to studying a number of philosophers, writers, and Greek and Latin compositions and history. Other departments included Foreign Languages (French & German); Christian Ethics, Logic and Intellectual Philosophy, and of History; Rhetoric and Oratory; Evidences and General Doctrines of Christianity; and Medical Department
Almost 100 years later, a 1935 catalogue for Hobart College offered pre-professional courses in teaching, theology, law, social work, journalism, business, medicine and dentistry, and engineering. Departments of instruction included Greek or Latin language and literatures, foreign languages, history, economics, sociology, psychology, and six others. When its first class enrolled in 1908, William Smith College offered the classics, modern languages, English, history, mathematics and drawing, and natural sciences. Classes were also available in botany, zoology, plane geometry, medieval history, and more.
Today's Hobart and William Smith Colleges (linl) catalogue lists so many fields of study and topics that appeal to students, I can't imagine having to decide between them. Classes in this year's catalogue include Britpop: From Beatles to Brexit; Eat like a Slav; Femme Fatale and Film; Harlem Goes Global: Black Politics & Cultures in the 1920s & 1930s; The Paradoxes of Fiction: Latin American Contemporary Narrative; Nihilism East and West; and Star Trek Physics.
Considering some of the classes I took at my alma mater, like Witchcraft in Early Modern Europe and New England or Religion and Science Fiction, it's interesting to see how college offerings have changed since the early days of further education in Geneva. And while it's cool to see courses such as zoology or metaphysics in early catalogues, I think students today are lucky not to have to limit their studies to the 'classics' and are able to expand their knowledge, and by osmosis, to others around them. I, for one, would be happy to sit in on "Thinking About Harry Potter" at Lawrence University which challenges students to focus on Harry Potter as a cultural phenomenon with the stories being examined in respect to history, myths and ethics, as well as social and political implications.