Town and Gown at Historic Geneva, 2023
By John Marks, Curator
In April 2013, I wrote about our relationship with Hobart and William Smith (HWS) Colleges.  With an academic year just completed, this seemed like a good time for an update.
In 2013 I wrote that students visit the museum for several reasons. We've been a stop on walking tours with first-year students during orientation. Some classes come for an overview of Geneva history that ties into their subject for the semester. Research methodology classes  (ways of researching and understanding the information)  across multiple disciplines use Historic Geneva. The Anthropology and Women's Studies departments continue to bring students to use our archives, and American Studies has added us. A new minor, Critical Museum Studies, learns about the museum profession and presenting local history.
HWS volunteers and interns do valuable work for us. Volunteers often work on behind the scenes projects such as scanning photos. Lucas Gillespie, H '24, has been transcribing the diaries of a Seneca Castle man during the Civil War. This makes our archive resources more accessible to researchers.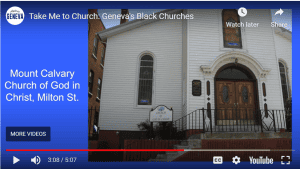 While interns may do similar work, they also help with exhibit research and products for our website. In 2019, Jordan Raivel, WS '20, created a video for our exhibit on local college sports.  Last summer Nicole Wadsworth and Liz Nafz (both WS '24) did research for this year's exhibit, Lift Every Voice: Geneva's Black Community Since 1966. They focused on Black churches and made a video that's on our website.
Associate Professor of Theater Chris Woodworth has used our archives for two major projects. In 2018 she directed students in researching the history of the Smith Opera House. In 2019, the theater's 125th anniversary, they wrote blogs, and created a building tour that's offered in the summers.
In 2021 the HWS Theater Department, under Chris' direction, made their fall production a collaboration with us. From Beyond: Geneva's Forgotten Voices was a new take on our past presentations of people from the past. Four students researched Black Genevans in our archives and wrote first-person stories. The production was staged as a walking tour around downtown.
We continued to work with HWS during the pandemic. A few class sessions were scheduled when the lockdown began in March 2020. I pivoted (our favorite pandemic word) to doing these classes through a Powerpoint, for students to view at their leisure, or through Zoom. This continued into the fall until classes were fully back to in-person. I also helped several student researchers through Zoom, answering questions and assisting them with online resources. The Colleges orientation team couldn't have the traditional walking tours of Geneva for first-year students. I helped create a video combining historical and modern information.
In May at the Colleges' Community Engagement Scholarship Forum, President Mark Gearan presented Historic Geneva with the Community Partner of the Year award. Chris Woodworth nominated us for this honor. President Gearan said, "Their impact is evident through an impressive list of collaborations which engage students in honing archival research skills, engaging in public discourse and demonstrating the ways in which local history intersects with broader national and international narratives, policies and publications."