Piazza Party at Lochland
For over forty years women's rights and dress reform advocate Elizabeth Smith Miller  (1822-1911) called Geneva home. In 1897 Miller got the New York State Suffrage Association to host their annual convention in Geneva. After the convention Miller and her daughter, Anne, formed the Geneva Political Equality Club. The purpose of the club was to secure full suffrage for women.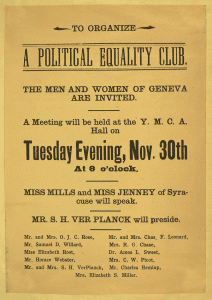 With an annual membership of $0.50, men and women were encouraged to join the club. Monthly meetings were held from November to May and each meeting ended with a lecture. Topics included illustrated talks on South America, child labor, peace, public schools, and direct legislation. In addition to meetings, the club hosted quarterly socials, classes in civics and the Miller Prize (an annual essay contest for high school students). Miller also used her connection to bring national and international suffragettes to speak at the Smith Opera House or at her home on behalf of the club.  Speakers included Charlotte Perkins Gilman, Carrie Chapman Catt, Susan B. Anthony, Emmeline and Sylvia Pankhurst, and Rev. Anna Howard Shaw.
Between 1899 and 1909 Miller hosted an annual party on the piazza of her Lochland home (now part of the Lochland School ) as a fundraiser for the Equality Club, featuring speakers from the suffrage movement. From 2 to 4 p.m. on Sunday, June 7, Lochland School  and the Historical Society will re-create Miller's piazza party. Along with live music, Elizabeth Cady Stanton (portrayed by Eleanor Stearms) and Jill Tietjen, CEO of the National Women's Hall of Fame, will speak. Copies of Her Story by Jill Tietjan and Inspiring Women of the National Women's Hall of Fame will be available for sale.  Refreshments inspired by Miller's cookbook In The Kitchen will be served.
Tickets are $20 for Historical Society members and $25 for non-members.  For tickets or more information, call the Historical Society at 315-789-5151. Proceeds will benefit the Historical Society and Lochland School.