Suffrage Songs
By John Marks, Curator of Collections and Exhibits
This year is the centennial of New York women earning the right to vote. The Historical Society has two exhibits marking the occasion. We produced one, Good Results Have Followed: Women's Rights Movement in Geneva 1848 – 2017, and the New York State Museum sent us Votes For Women: Celebrating New York's Suffrage Centennial. (The latter is a very small poster version of an exhibit that will open in Albany in November; we are sponsoring a day trip to see it on December 5)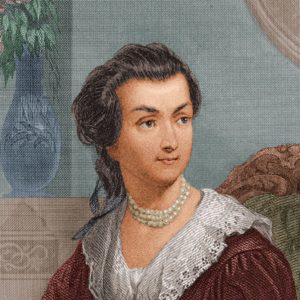 Because of the Women's Rights Convention in Seneca Falls we tag 1848 as the beginning of a movement. Voices for equality had been around much longer. Perhaps the most famous early voice was Abigail Adams, wife of one president and mother of another. In March, 1776 she wrote to her husband John to "…remember the ladies, and be more generous and favorable to them than your ancestors…If particular care and attention is not paid to the Ladies we are determined to foment a Rebellion, and will not hold ourselves bound by any Laws in which we have no voice, or Representation."
Songs for equality soon followed. A quick Internet search brought up http://www.protestsonglyrics.net/Songs-about-Womens-Rights.phtml which has a long list of songs, credits, and dates. The earliest song I found was "Rights of Woman," written by "A Lady" in 1795.
Unless you are Woody Guthrie or Bob Dylan, the easiest way to write a protest song is to use a well-known popular tune. Half the work is done and people can immediately join in the singing. "Rights of Woman" was set to the tune of "My Country Tis of Thee." Here are the first and last verses of the song – feel free to sing along!
GOD save each Female's right,
Show to her ravish'd fight
Woman is Free;
Let Freedom's voice prevail,
And draw aside the vail, [sic]
Supreme Endulgence hail.
Sweet Liberty.
A voice re-echoing round,
With joyful accents found,
"Woman is Free;
Assert the noble claim,
All selfish arts disdain;"
Hark how the note proclaim,
"Woman is Free!"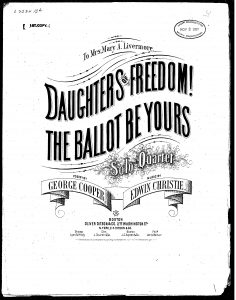 While lyrics are plentiful, I only found two online recordings of suffrage songs. Both were recorded in the late 20th century. The first, "Daughters of Freedom" (1871), was recorded by a group of Library of Congress staff members:
Singing "Daughters of Freedom" requires some skill, but anyone can sing "Auld Lang Syne." Around 1880 D. Estabrook wrote "Keep Woman in Her Sphere" and set it to that tune. It's short enough that I've included all the verses – I dare you to read them without humming the tune.
I have a neighbor, one of those
Not very hard to find
Who know it all without debate
And never change their mind
I asked him"What of woman's rights?"
He said in tones severe–
"My mind on that is all made up,
Keep woman in her sphere."
I saw a man in tattered garb
Forth from the grog-shop come
He squandered all his cash for drink
and starved his wife at home
I asked him "Should not woman vote"
He answered with a sneer–
"I've taught my wife to know her place,
Keep woman in her sphere."
I met an earnest, thoughtful man
Not many days ago
Who pondered deep all human law
The honest truth to know
I asked him "What of woman's cause?"
The answer came sincere —
"Her rights are just the same as mine,
Let woman choose her sphere."
The second song I found online kept the popular title and tune, "Oh Dear, What Can the Matter Be?" In 1884 L. May Wheeler wrote lyrics listing all the privileges of women until the last verse and refrain. This version is performed by Gerri Gribi.
In 1911, Charlotte Perkins Gilman, an author and activist for social reform, wrote "Suffrage Songs and Verses." The poetry is very much a product of its time (you can judge for yourself) but I bring it up because Ms. Gilman spoke in Geneva for the Political Equality Club. It's unknown if she did any singing while here.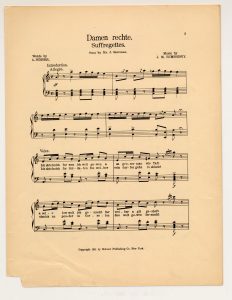 The same year saw the publication of a Yiddish song, "Damen Rechte (Suffregettes)." It was very pro-suffrage as well as supporting equality in many aspects of society.
Although the fight for suffrage reached its peak during the gramophone era there are no period recordings of these songs. My theory is that they were intended for rallies and action rather than for listening in a parlor. In 1958 Elizabeth Knight recorded Songs of the Suffragettes for Folkways Records and it has been re-issued on compact disc. It remains one of the few performances of suffrage music.
Bonus Song:
This was not a period suffrage song but was part of 1970s and 1980s childhood. ABC produced Schoolhouse Rock, a series of short animated songs about math, language, and history that ran in between Saturday morning cartoons. Many of us learned multiplication, the Preamble to the Constitution, and some women's history from these catchy tunes. In 1998 contemporary musicians covered some of the songs, including the great Etta James singing "Sufferin' till Suffrage."