"A Jewel of an Actress:" Emily Bancker in Geneva
By Amy Pepe, Visitor Services and Public Programs Manager at Rose Hill Mansion and Johnston House
The Smith Opera House opened in Geneva in 1894. One of the performers to appear there within its first few years was an actress and comedienne named Emily Bancker who quickly became a Geneva favorite.
Although accounts differ as to whether she had American or English roots, Emily Bancker was active in North American theaters in the 1880s and 1890s. She became very well known for her comedic talent, touring with multiple companies of actors. Most notably, she toured with Rosina Vokes' company and Mrs. H Musgraves company and frequently performed at the Lyceum in New York City.
Between 1896 and 1897 Emily Bancker is mentioned at least 12 times in articles in the Geneva Advertiser and Daily News. Her performances at the Smith were both highly promoted and highly reviewed.  She delighted Geneva audiences with her performances of Our Flat in 1896 and The Divorce Cure in 1897. There was much excitement around her performance of Our Flat with newspapers claiming that "no one who pretends to keep pace with the theatrical season can afford to miss seeing Emily Bancker, the brilliant and beautiful comedienne." A local advertisement for an April 8, 1897 performance of The Divorce Cure promised "2 ½ hours of incessant laughter." Later, it was published that "Miss Emily Bancker is a jewel of an actress, a great favorite in Geneva." It seems that Bancker's reputation preceded her in Geneva as it was written that "Miss Bancker's fame and popularity are too well known to expiate upon."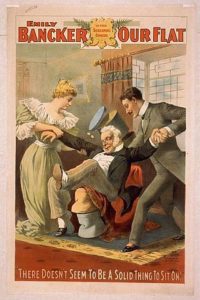 Bancker had planned to return to Geneva yet again for a future performance in Christopher, Junior, but sadly never had the chance. In fact, her local performance of The Divorce Cure would be among the last shows Bancker ever performed. While touring upstate New York, Bancker fell ill while visiting a relative in Albany. After a failed surgery, she died in Albany on June 5, 1897 of peritonitis; an inflammation of the inner wall of the abdomen which causes fever, pain, and swelling and was typically fatal.
Although her exact date of birth is unknown, she is believed to have been in her mid-thirties when she died. Geneva newspapers reported on the details of Bancker's death, which occurred less than two months after her most recent local performance and during her upstate New York tour of Our Flat.