Ella Cripps: "Hobby and Occupation – Music"
By John Marks, Curator of Collections and Exhibits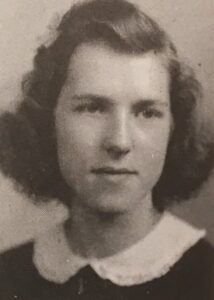 Growing up in Penn Yan, I always heard about Ella Cripps (1926-2015). If there was a musical production in this area with a piano, Ella was playing it. When my wife and I moved to Geneva in 2000 and went to the First United Methodist Church, she had already been their organist for 55 years.
Ella Vosburg graduated from Geneva High School in 1943. The first phrase to describe her in the yearbook was, "hobby and occupation – music." She participated in band, orchestra, chorus, glee club, opera, Finger Lakes Orchestra, and choir. Future plans included Eastman School of Music, where she graduated four years later.
Ella's day job was teaching at Gorham Central School and Penn Yan Central School. Over her lifetime, that may have been the least of her activities. She played the organ at the First United Methodist Church for 67 years. By 2000 when I arrived, she also conducted the adult choir while playing. The church named her Director of Music Emeritus after her retirement.
Ella played almost any genre of music wherever she was asked. (I never heard her play the Rolling Stones, but I don't know that she didn't, either.) She played dinner music at Geneva-on-the-Lake. She was accompanist for many school and community theater musicals, playing all the rehearsals and performances. For 18 consecutive years, she played for the Palm Sunday Cantata in Hall. She volunteered at Geneva and Canandaigua nursing homes, playing and leading sing-a-longs.
I'm sure Ella enjoyed anywhere and anytime she played, but there were some things I believe she did for herself. For a few decades she was a member of the Tuesday Piano Quartette, a group of women who played arrangements for eight hands on two pianos. They rarely performed but played every week for the fun of it, plus tea and cookies. They had a "bench roster" of substitutes so the music continued if a regular player couldn't attend. To learn more about the Quartette read a blog article or listen to a podcast.
For over 50 years, Ella was an active member in the Gorham Rebekah Lodge #220 and was the State Musician for the Lodge several different years. In the years I sang in the church choir, the Rebekah State convention was about the only "vacation" she ever took from playing on Sunday.
I'm sure every church organist, community musician, and music teacher made an impact on people around them. Who is the person you remember? Share your story and any photos you might have!