Famous 19th-Century Musicians in Geneva
By John Marks, Curator of Collections and Exhibits
Technology has improved the life of an historical researcher. Many old newspapers can be accessed online now. While there is something to be said for scrolling through microfilm, digital collections are searchable and can be done from the comfort of one's home. Likewise, researching the context of what is in the newspapers is much easier.
I have been researching music in Geneva for several years. If I found a newspaper article while searching for something else, I saved it. In this way I came across a number of unfamiliar names who performed in Geneva in the 19th century. The advertisements, previews, and reviews certainly made them sound important, but who were they?
I knew of Linden Hall from our photograph collection. It was common for public halls to be part of a larger business block and on an upper floor. (Tall windows on upper floors often indicate there was a performance hall there.) I wasn't familiar with Miss Kate Dean, and an Internet search didn't help much. I can share the preview of her 1858 concert from the Geneva Gazette:
"We hail with pleasure the coming of Miss Kate Dean, the American Prima Donna, to this place. Miss Dean is a lady gifted with a remarkably beautiful and powerful voice, which has produced the most intense excitement wherever she has performed. Her sweet tones are said to rival even those who have graced the operatic stage….Let Americans proved that they can appreciate true native genius by giving Miss Dean and her troupe a hearty welcome."
There is a tone of almost patriotic defensiveness in the promotion of Miss Dean. Many of the premiere singers at this time were European and there may have been the need to prove "we" were as good as "they."
Louis M. Gottschalk is the next performer I happened across in an 1862 Geneva Gazette.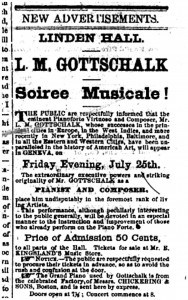 The Internet has recorded more of his legacy than Miss Dean's. Born in New Orleans, he studied and performed largely outside the United States. He composed in a romantic style, and died in Brazil of yellow fever at the age of forty.
The newspapers commonly ran a concert preview the same day as the advertisement. Papers were only published one day a week so it was important to push an event. This is an excerpt of the article in the Geneva Gazette on July 18, 1862:
"His celebrity is world-wide, having delighted the musical connoissues [sic] of Europe as well as America with his original and brilliant compositions for and performances on the Piano Forte….To amateur pianists particularly (of whom we have a multitude) the evening's soiree will be rich in interest and pleasure."
The Historical Society has a fair-sized collection of local concert programs. This one caught my eye, based on general music history knowledge.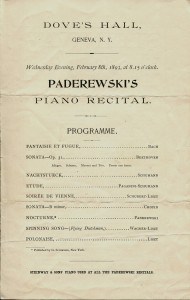 Dove Hall was on the third floor of the Dove Block. Recently I was on the third floor and was struck by two things. It was fairly small, as performance spaces go, and had an average-width staircase. I'm not sure how a Steinway and Sons piano made it up to the third floor but I'm glad I wasn't the one moving it.
Born in Poland in 1860, Ignacy Paderewski made his musical debut in Vienna in 1887. He quickly gained international attention, touring the United States for the first time in 1891.
A notice in the paper before the concert alerted people to a time change from the original program. The concert would start at 7:45 pm sharp as Paderewski had to catch the 10 pm train. The February 10th Geneva Daily Gazette had this review of the concert:
"The Paderewski entertainment attracted the largest audience ever witnessed at Dove's Hall – it was packed even utilizing every foot of standing room. Many were present from Aurora, Seneca Falls, Waterloo and other adjacent towns….Such grand execution on the piano was never before heard, except by those few who had previously heard the same performer. He played everything without the score before him, and graciously responded to the many encores….No wonder the musical world of both continents have gone wild over this phenomenal pianist."
Regardless of name recognition today, Geneva was on the main line for notable performers. These are just three that spring to mind.  Over the next year I'll be exploring more musicians who played Geneva.