Music in Geneva: Jack Bullock
By John Marks, Curator of Collections
Last month I wrote of the passing of Ken Petersen, Appleknockers Drum and Bugle Corps legend. Sadly, this month I remember the late Jack Bullock whose list of musical accomplishments include the Appleknockers, the Gorham Pageant of Bands, and writing hundreds of arrangements for school bands and orchestras.
Born in Syracuse in 1929, Jack earned his bachelor's and master's degree in music at Ithaca College. He began playing with the Appleknockers in 1948 while he was still an undergraduate. After service in the Army, he returned and began writing arrangements as well as playing in the corps. Jack used jazz harmonies, rhythms, and modulations to another key. This style became a signature of the Appleknockers and was eventually copied by other groups. In 1957 he became bugle instructor and director. He also worked with and wrote for other corps in New York.
Jack's day job was teaching in schools, first at Gorham, then Canandaigua. In 1961 he put on the first Gorham Pageant of Bands. He saw a similar event in Sherburne, New York and thought it could be a way to do something for Gorham. The village has become known as "the bandstand of the Finger Lakes" and still hosts concert band, jazz band, and marching band contests.
Jack earned his doctorate and taught music at Ithaca College. Eventually he became a full-time arranger and composer for publisher Alfred Music. (Like any corporation, the names changed multiple times over the decades, but this is the final name while Jack was there.) He wrote and co-wrote many instructional "method" books for band instruments that are still in print.
Jack wrote hundreds of arrangements of pop, jazz, and marching band tunes for school use. If you've attended an elementary band concert anywhere in the country, you've probably heard one of his numbers. "Jack Bullock" may not have been in the program as composer/ arranger. He used the name "Paul Cook" for his Grade 1 (beginning level) arrangements. If you do a search on that name, you'll find over 700 pieces of music. My personal favorite: a Grade 1 arrangement of the one-hit wonder, "Na Na Hey Hey Kiss Him Goodbye."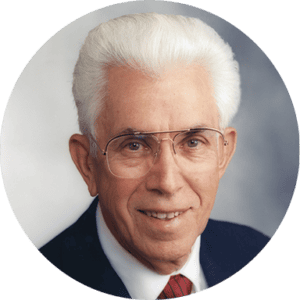 In 1985 Jack returned to Gorham as a judge for the 25th anniversary Pageant of Bands. A former student spoke to him. Like any good music teacher, he said later, "I didn't remember her name, but I remembered her horn."
For more about music in Geneva, see our exhibit Music in the Key of Geneva.