Mark Twain Comes to Geneva
By Kerry Lippincott, Executive Director
There is no use denying it any longer – I'm suffering from Twain withdrawal. Before coming to the Geneva Historical Society, I worked at the Chemung County Historical Society in Elmira and Mark Twain is pretty popular guy in Elmira. Twain's connection to Elmira is due to his wife Livy Langdon, who was born and raised there.  The couple courted and were married in the Langdon family home on Church Street (which sadly is longer standing). Three of the couple's four children were born in Elmira. Between 1870 and 1889 the family spent all but one summer in Elmira at Quarry Farm, the home of Livy's sister.  It's at Quarry Farm where Twain wrote most of Roughing It, first half of Adventures of Tom Sawyer, all but three chapters of Adventures of Huckleberry Finn, The Prince and the Pauper, parts of A  Tramp Abroad, Life on the Mississippi, and portions of A Connecticut Yankee at Kings Arthur's Court. Twain and his family are also buried in the Langdon family plot at Woodlawn Cemetery in Elmira. It's safe to say that I have spent so much time with Twain, Livy and their daughters that I feel as if I know them.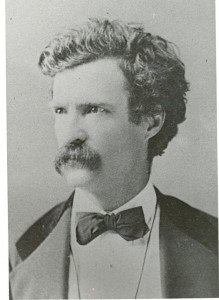 As part of a lecture tour, Twain made an appearance in Geneva on December 4, 1871 at Linden Hall.  In era before major mass media, like many celebrities in the mid and late 19th century Twain traveled the country making appearances through various lecture circuits. During his lifetime, Twain was almost as well-known as a public speaker as he was a writer. In fact, lecture tours served as a major source of his income.
His stop in Geneva was part of his October 1871 to February 1872 tour. Over the course of five months, Twain had 76 performances in over 15 states (from Maine to Illinois and the District of Columbia). For his Geneva appearance the topic was Artemus Ward (pen name for American humorist Charles Farrar Browne). After presenting a brief biography of Ward, Twain recited a medley of Ward's stories.
Throughout the tour, crowds were typically large and enthusiastic, but newspaper reviews were mixed. Here's what the Geneva Gazette reported: "Mark Twain" was favored with a good house – good in numbers and appreciative character – on Monday evening last. It was his first appearance before a Geneva audience and doubtless many had formed a higher estimate of his personal and oratorical characteristics than was borne out by the introduction and lecture itself. Mr. Clemens is not an electric, high strung clown like George Francis Train, who amuses as much by his antics as by his language; but in action appears very – tired, some might denominate it even less complimentarily."
In Twain's defense, in 1871 he was just beginning to make a name for himself as a writer and lecturer. At the time he had published several short stories and two books (The Jumping Frog of Calaveras County and Other Stories and Innocents Abroad). The Adventures of Tom Sawyer would not be published until 1876 and Adventures of Huckleberry Finn would follow eight years later. He had yet to become the Mark Twain we know today.