The Louisa May Alcott of Geneva: Sarah Hopkins Bradford
By Kerry Lippincott, Executive Director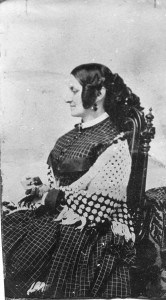 For me one of the real pleasures in life is curling up with a good book.

 

Even better is "discovering" a new author.

 

Among the local authors I've "discovered" is Sarah H. Bradford.

 

Though Sarah wrote books, short stories, poetry, songs and articles, she is perhaps best known for writing the first biography of Harriet Tubman.
The youngest of seven children, Sarah Hopkins was born on August 20, 1818 in Moscow, New York.

 

Before coming to Geneva in the early 1830s, Sarah and her family lived in Mount Morris and Albany.

 

On May 18, 1839 Sarah married lawyer John Bradford (1813-1861).

 

The couple would eventually settle in a house on South Main Street and raise six children (Charles, William, Mary, John, Elizabeth, and Louisa).
In 1847 Sarah published her first story, "Amy, the Glass Blower's Daughter."

 

Though she would write both fiction and non-fiction, Sarah's primary audience was children. Often written under the pen name Cousin Cicely, her children's books were considered "Sunday school" books because they offered moral instruction. Perhaps Sarah's most

 

successful children's book was the Silver Lake series.

 

Written between 1852 and 1854, the series is a six volume set and each stand alone volume contains a collection a poems and short stories.

 

The Silver Lake series include The Budget, The Jumble, Ups and Downs, The Green Sachel, The Cornucopia and Aunt Patty's Mirror.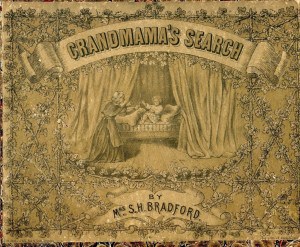 Sarah's other children's books include Lewie, or the Bended Twig; The Linton Family, or the Fashion of the World; Getting Well: Tales for Little Convalescents; Grandmama's

 

Search or Tom Lost and Found; The Old Portfolio; The Dominie or Reminiscences of a Girl's Life; Splendors and Miseries: A Life of Sir Sacheverill Stiwell; The History of Peter the Great; The Story of Columbus, Simplified for the Young Folks; and The Chosen People.
Sarah's writings may have helped to support her family as her husband apparently abandoned the family in 1857 and established a law practice in Chicago.

 

  

After John's death in 1861 Sarah opened Mrs. Bradford's School for Young Ladies and Little Girls in her home.

 

Based on an advertisement, the school offered lessons in English branches and Mathematics (for an additional fees piano and ancient and modern language lessons were also offered) over three terms from September 1 to June 1.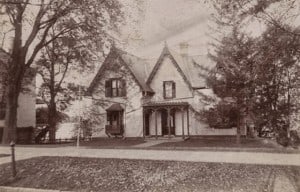 Bradford Family Home (629 South Main Street)
While operating her school Sarah wrote the first history of Geneva, which appeared in the 1862 and 1863 Brigham's Geneva, Seneca Falls and Waterloo Directory and Business Advertiser.

 

In the late 1860s Sarah was also approached by friends and supporters of Harriet Tubman and was asked to write Tubman's biography.

 

At the time Harriet Tubman was endanger of losing her home in Auburn.

 

A committee was established to find an author to write her biography.

 

Once published, the biography was to be sold by subscription with the proceeds going to Harriet.

 

Sarah's interviews with Harriet served as the basis for Scenes in the Life of Harriet Tubman (1869).

 

Sarah, however,

 

is criticized by modern biographers for her artistic lesson and very subjective point of view.

 

A second edition of the book, Harriet, Moses of Her People was published in 1886.

 

Proceeds from the second edition went to the Tubman House, a nursing home in Auburn established by Harriet Tubman for African Americans.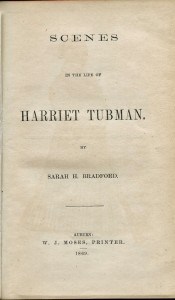 Shortly after the publication of Scenes in the Life of Harriet Tubman, Sarah closed her school and spent eight years traveling around Europe with her daughters.

 

Upon her return to the United States, Sarah lived in Albany and Rochester.

 

On June 25, 1913 Sarah died in Rochester and she is buried in the Washington Street Cemetery.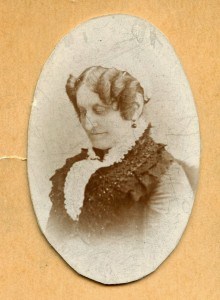 For more information about Sarah H. Bradford, read "And who was she anyhow?" Sarah Hopkins Bradford, Biographer of Harriet Tubman by Preston E. Pierce