Museum Acquires Two F.M. Tuttle Portraits
By John Marks, Curator of Collections
Francis Marion Tuttle was a deaf mute Genevan who was a professional artist from the 1860s until his death in 1910. He was the third generation of Tuttles in the village, followed by three more generations of descendants. In January we purchased portraits of Francis' parents that he painted. We have twenty Tuttle paintings, mainly landscapes, in the collection but these are the first portraits of family members.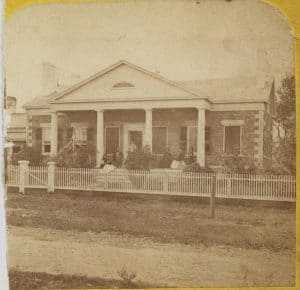 In 1790 Benjamin Tuttle, Joseph's father, was the first of the family to come to Geneva. He purchased land west of the village at the present-day intersection of Routes 5 & 20 and Pre-Emption Road. He built and ran a cobblestone tavern, shown here. It was expanded and is now the Cobblestone Restaurant. Benjamin died in 1833 and Joseph inherited the tavern.  In addition to the tavern, Joseph invented and patented the Tuttle saw. It was the first saw with offset teeth to "rake" sawdust out of a cut.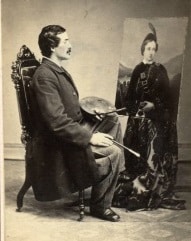 Francis Marion Tuttle (1839-1910) lost his hearing as an infant. His father Joseph shot a gun too close to the boy's ears. Like many Deaf people in the 1800s, Francis received training in the arts and was able to support himself and eventually his family. He's seen here with a painting of the Prince of Wales. Local newspapers promoted his artwork which was often on display in downtown store windows.
Francis and Eunice Tuttle had a son, Hammond B. Tuttle, who became a well-known Geneva photographer. "Ham" took hundreds of photos of groups and parades in the first half of the 1900s.

Hammond and Florence Tuttle's daughter, Eunice, married Elmer Lautenslager. "Lauty" was a marketing person who was locally famous for his cartoon sketches. They were found everywhere, from advertisements to handmade greeting cards. This sketch was done for the Seneca Yacht Club. Elmer and Eunice raised two sons in Geneva, Robert and Richard.
The portraits of Joseph and Persis Tuttle by their son fit into a story of over 150 years of family history in Geneva.