Washington Harrison Donaldson, the aeronaut
By Becky Chapin, Archivist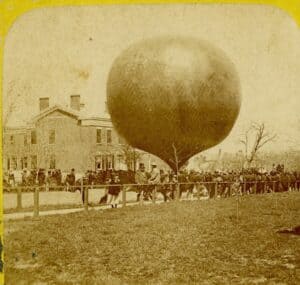 On May 14, 1874, photographer AS Hinckley captured this photo of a balloon inflated at the corner of Genesee and Lewis Streets. The story behind the balloonist is quite fascinating and culminates in a mystery still unsolved to this day. The balloon's name was the Will O' The Wisp and it was built by Washington Harrison Donaldson who was known as an aeronaut from 1871 to 1875. Donaldson was born in Philadelphia on October 10, 1840 to parents who named him after George Washington and General William Henry Harrison. His father David, an artist of "no mean ability," picked Harrison and his mother, proud of her Revolutionary heritage, picked Washington.[1]
Reports claim that as a child Donaldson showed an adventurous spirit which included running up an eight-foot ladder and stringing rope to perfect his slack-rope walking. Though he worked at illustrations in his father's studio, he also studied legerdemain (sleight of hand tricks) and ventriloquism; both of which he excelled at. His first public appearance was at Long's Varieties (a theater) in Philadelphia as a rope walker. In 1862, he strung a 1200 foot long rope across the Schuylkill River at a height of 1200 feet above the water. Two years later he walked an 1800 foot long rope, two hundred feet above the Genesee Falls in Rochester. His follow up act in Philadelphia was to ride a velocipede on a tight wire in 1869.
He premiered as an aeronaut on August 30, 1871 when his first attempt at ballooning ended with him throwing all loose items overboard so that the balloon, which could only hold 8,000 cubic feet of gas, could actually ascend. He made it 18 miles. Donaldson ditched the basket for his second attempt, instead using a trapeze on which he attempted several tricks; an observer described Donaldson as throwing himself backward and catching the bar with his feet, hanging by one hand, one foot, and the back of his head.[2]
Donaldson caught the attention of Professor John Wise when he started making plans to cross the Atlantic in 1873. Wise, a pioneer in ballooning who made over 400 flights in his lifetime, had been trying to raise funds since 1843 to do the same and the two men applied to the city of Boston for help. The resulting balloon could hold 600,000 cubic feet of gas with a lifting power of 14,000 pounds. Unfortunately, this voyage in June 1873 was brief and nearly tragic as the balloon entered a storm and Donaldson with his two passengers were forced to bail from the basket.
Somehow Donaldson ended up in the Finger Lakes area in 1874 and in April he made ascensions in Canandaigua, Seneca Falls, and Geneva. In May 1874, he was waiting on his large new balloon, the Will O' The Wisp, to arrive in Geneva, but did have a small one person balloon. He inflated the Magenta and started his ascension in front of Ramsey's saloon on Exchange St. According to the Geneva Daily Gazette, Donaldson asked if people wanted to go up to 300 feet while it was tied to the ground; twenty one people took up his offer, three of which were ladies.
The following week, the Will O' The Wisp was finally in Geneva. On May 14, the "mammoth airship" was filled from the largest gas main on Lewis Street at 9 am. At 2:35 pm, Genevans John Herrick and Lyman Root took their seats in the basket followed by Donaldson; four minutes later, it was let loose and "sailed majestically away." The balloon passed over the American Hotel on Exchange Street in a southerly direction and remained in sight about 40 minutes but did not gain much more altitude than 1 mile above the ground.[3]
The experiences of Herrick and Root were printed in the papers after they returned the next morning by train. After they floated past Geneva, they said "Prof D let her down for fun" near Bellona so the basket struck the ground but "soon recovered and went on."[4] The group crossed Crooked Lake at an altitude of 1.25 miles where they could see the steamers Cayuga, Seneca and Crooked Lake all in sight at once. By the time they landed about half a mile south of Savona Station on the Genesee Valley Railroad, they had been floating for eight and a half hours and were forty miles from their starting point.
Herrick and Root returned by train via Rochester the next morning, but Donaldson decided to float back. He left Savona Friday morning and floated in a northeasterly direction, alighting near Half Way Station between Auburn and Syracuse, reaching Geneva on the 5:20 pm train that night. The balloon had been packed in the basket, brought with him, and laid out in the rear baggage room of the station. At 4 am, Saturday morning, a fire was discovered in the building and the balloon was so damaged it was no longer fit to fly.
A year later on July 15, 1875, Donaldson ascended for the 138th and final time from Chicago over Lake Michigan with the journalist Newton Grimwood in the balloon PT Barnum. Unfortunately, a storm soon broke out over the water which came with lightning and heavy rains. A few hours later, a tugboat sighted the balloon 30 miles offshore in the water but before it could reach the balloon, it took on some air and flew away, disappearing from sight. The body of Grimwood was found three weeks later on the lakeshore; inside his pockets were his notes from the ascension that were printed in full in the Geneva Courier on August 25, 1875. Neither Donaldson nor the balloon were ever found.
Reportedly local artist Francis Marion Tuttle, had painted the Geneva event and the picture was on display in 'Wilson's' in July 1874. DL Donaldson, Washington's son, wrote the Geneva Advertiser-Gazette in May 1907 to submit notes from Donaldson's Geneva ascension in 1874, his 47th trip.
Accounts from Donaldson's life were taken from:
Bronson, Edgar Beecher. The Red-blooded Heroes of the Frontier. United Kingdom: Grosset & Dunlap, 1910.
History of Donaldson's Balloon Ascensions: Laughable Incidents, Frightful Accidents, Narrow Escapes, Thrilling Adventures, Bursted Balloons. United States: Cincinnati News Company, 1875.
Footnotes
[1] Bronson, Edgar Beecher, "The Red Blooded Heroes of the Frontier," page 106.
[2] Ibid, page 110.
[3] Geneva Daily Gazette, May 15, 1874.
[4] Ibid.
Historic Geneva tells the stories of Geneva, New York.  Discover  these stories online and in person through the Geneva History Museum, Rose Hill Mansion, and Johnston House.