Hearing from You: William Holleran, Carpenter
By John Marks, Curator of Collections
I wrote a brief history of the Geneva Bicycle Center building on Exchange Street for the February 5 Finger Lakes Times. That Monday I received an email from a woman with more information about the O'Riely Block, as it was first known. She loaned items that filled in the gaps on several other buildings as well.
William Holleran (1860-1900) was born in Phelps and moved to Geneva in 1885. He built houses at 106 Cherry Street, and 113 and 119 Lafayette Street. The last house became his family home. He worked for the construction company Persons and Sigler as a carpenter. His descendant brought in contracts from several buildings he did on his own.
Within one year, Holleran did two projects for St. Francis DeSales Parochial School. In October 1898, he was hired for "the erection and completion of the Carpenter Work for a two story and basement brick and stone addition…on the rear of present old building." This was the original building; the north side addition wasn't built until several years later.
In July 1899, Holleran was hired to do "Carpenter work and materials for the erection of a Brick Carriage & Horse Barn." On the 1897 Sanborn fire insurance map, there were a collection of outbuildings between the school and Centre Street. They were taken down and by 1903, the property was more orderly. There was the new addition to the school, and a square carriage house in the corner of the property.
In November 1899, Edward O'Riely contracted Holleran for "the Carpenter work in a three-story brick business block to be erected on Exchange St., Geneva, N.Y." This was a much larger project than the previous two buildings. The O'Riely block had two storefronts, apartments on the upper floors, and public hallways. The contract called for Holleran to "employ a sufficient number of workmen to carry…the work on so as not to delay other contractors when it can be possibly avoided." He was to be paid monthly for materials and labor costs of the previous 30 days, plus "10% in addition thereto for the contractor's profit, it being particularly understood that this agreement is to be kept a profound secret by the owner and contractor and the architects."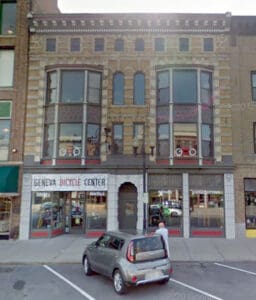 The real gem is a "Memorandum of changes on the E.D. O'Riely Business Block" from architects Considine & Waltz of Elmira. There were 33 changes and "each contractor is requested to make an individual price on each and every item, so that the owner may retain any and all he may see fit to do." Many of the changes were for Holleran's work. Number seven was, "All stairs to be of southern pine in place of red oak or white oak. Also, wainscoting each side of stairs and in public hall to be of southern pine." Change orders rarely survive and give an "as built" record of a building.
Despite a large contract, 1900 was a sad year for William Holleran. In late January, burglars broke into his job site shed and stole some of his tools. A few days later, his brother James died of typhoid pneumonia in Phelps. In June he fell ill with kidney disease and died on September 19. He was survived by wife Ella and five children.