A "Tisket" a "Tasket" I love my Picnic Basket
By Karen Osburn, Archivist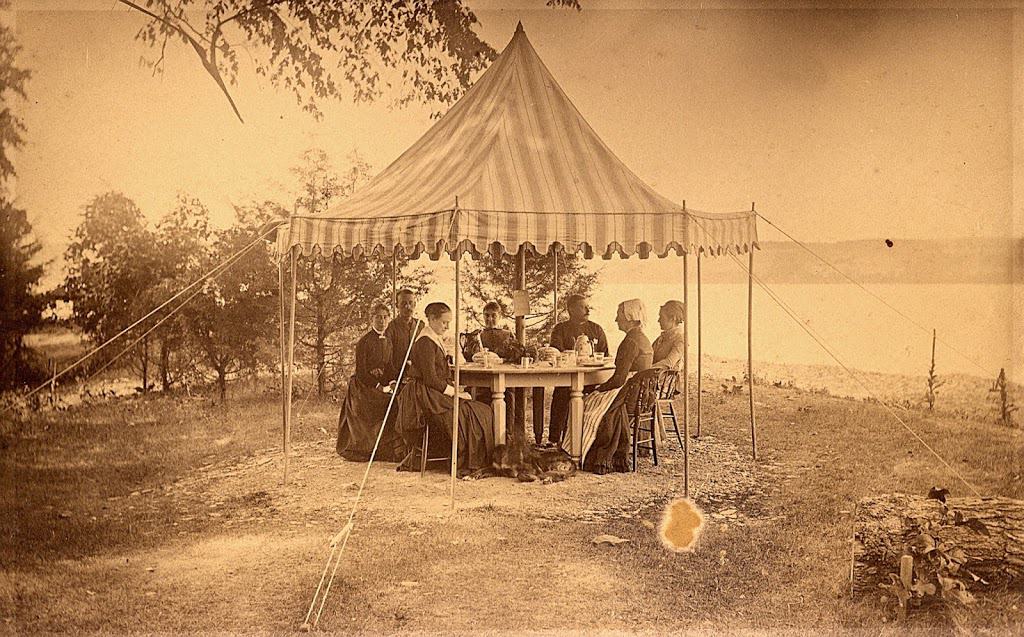 As usual, when I write an article I search for something from my own experience as a starting point.
This time it is picnics.
I love picnics, not that I manage to go on many of the stereotypical "tablecloth on the grass picnics".
I love the image of that type of picnic, but mine seldom work out that way.
I have cookbooks on how to create and pack a fancy picnic.
I even had a picnic basket once.
The whole idea is just so appealing, a simple dinner in the great outdoors.
Cold chicken and grape salad, tasty bread, cheese, fresh fruit, deviled eggs, a variety of cookies and the beverage of your choice are all part of my imagined perfect picnic.
Hopefully, Yogi Bear and his pal Boo Boo will be someplace
other
than at my feast that day.
Of course the reality is that I also end up taking lawn chairs, a cooler, a picnic basket of some type, a tablecloth, sunglasses, sunscreen, bug repellant, a sun hat, a jacket, plates, cups, flatware, napkins and so on.  What starts off as a simple meal in the park turns into what appears to be a three day expedition in the wilderness. How does this happen?  For me it is the old idea of, "always be prepared".  I try to cover every contingency and a few I might not think of and end up complicating a simple lunch.  I guess I can identify with the people in Georgian England in the late 1700s early 1800s who seemed to have the same problem with a simple picnic. 
Recently I've been researching picnics for a picnic contest we want to hold at Rose Hill on Jane Austen Day July 26.
I have poured over recipes and found some really interesting ones that sound tasty.
I am not sure that "easy" or simple comes into the process anywhere.
Some of the recipes I have looked up require a day or more of preparation.
One of the most elaborate is a "Pigeon Pie", which has a gravy based meat filling.
How do you cut, serve and eat something of that nature without china plates (no paper plates in the 1800s), glasses, forks, knives, serving utensils, etc.?
I find the most interesting feature of this entrée is the note that in Regency/Georgian England it was the "custom" to put "nicely cleaned" pigeon feet in the crust to indicate the contents.
Plus, the pie was made with whole birds; you picked out the bones as you ate the pie.
Not a very appealing dish to modern picnickers.
However, another recipe for Hot or Cold Broccoli, and one for Salmagundy look quite doable and appropriate for a picnic. Salmagundy, which I would compare to a Cobb salad or perhaps an Antipasto, is really simple to prepare and just takes the effort of laying various colorful ingredients (pickles, vegetables and cold chopped meats) out in a pretty manner.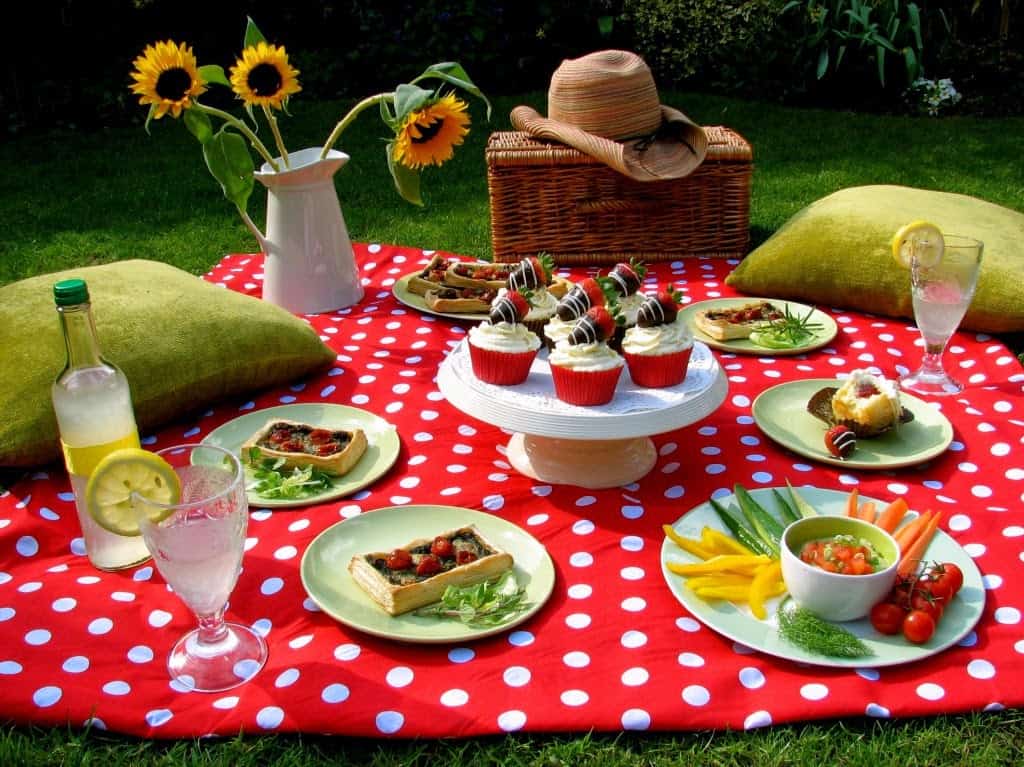 Some of the research I have done indicated that in the 1780s -1820s servants with carts hauled everything,
but
the picnic ants to the site of the intended picnic.
This is far from simple and even sounds more elaborate than my own fancy, little table cloth and picnic hamper.
Whatever happened to the idea of "a jug of wine, a loaf of bread and thou" (from Edward FitzGerald's translation of the Rubaiyat of Oman Khayyam)?
When I was a child my mom and dad's idea of a picnic lunch was to stop, while on a drive, at a small grocery in a rural town, buy cold cuts, mustard and a loaf of bread.  Dad spread the mustard and cut the sandwiches with his pocket knife and we used Kleenex for napkins.  If I really behaved I may have the opportunity for an Orange Crush in a brown bottle.  Dessert was usually fresh fruit from a farm stand or if it was too early in the year for fruit a package of cookies.  A very simple repast, of which, I doubt the English would have approved.
One of the most fun things I have ever done involving picnics, was partake in a cross county carriage event where I had to pack a lunch appropriate for the vintage of the carriage in which I rode.
This was before the days of the internet and trying to find out what to bring was difficult. All I remember was that I had a cold meat, bread, a beverage, real china and glasses in the basket.
I know I had a few other items including shortbread for dessert, but the person who won the judging brought "jugged hare" in a blue glass canning jar.
She also had other very appropriate foods for the era her vehicle represented.
I have been interested in period picnics ever since that time.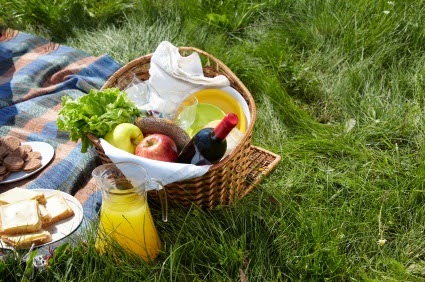 Today, I usually opt for plates, cups and containers that aren't breakable and made by Dixie, Hefty or Rubbermaid for example.  I want my feast to require as few trips to my car as possible, so I often use a reusable shopping bag for a picnic hamper.  In fact when in a hurry, I can put together a great picnic by dropping in at a grocery store.  I can purchase something much better than the impromptu sandwiches and orange soda of my childhood.  Granted it costs more, but I still can't totally give up that idealized idea of the checked table cloth, cold smoked salmon, a nice piece of Gouda, some apricots, a baguette, some sparkling grape juice and a pleasing assortment of cookies all spread out under a tree by Seneca Lake.
I hope you will consider participating in our period picnic contest on Jane Austen Day, who knows, someone just might bring pigeon pie?