"A Friend of the Gutted Stick:" Francis "Babe" Kraus
By John Marks, Curator of Collections and Exhibits
There may have been a time at Hobart when lacrosse and Francis (Babe) Kraus were not synonymous but then too, there was probably the period when ham was not linked up with eggs and tea did not line up with crumpets.
– Geneva Daily Times "Press Box Patter," March 26, 1954
Francis "Babe" Kraus is a local legend to people of a certain age. They may have attended Hobart lacrosse games, been his neighbor, or gone to school with his sons or grandsons. For others, Kraus may just be a name on a trophy. With our current exhibit, Statesmen, Herons, and Lakers: College Sports in Geneva, this is a good time to remember Babe Kraus.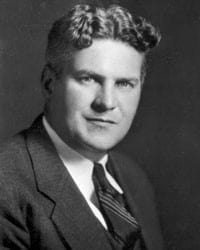 Francis "Babe" Kraus (1899-1966) was born in Fulton, NY. After one year at Colgate University, he transferred to Hobart in 1921. He was a star athlete in football, basketball, and lacrosse. In spite of never seeing a lacrosse game until he played in one, he was named an All-American in the sport in 1924. Picking up a stick and trying the game in college is a thing of the past. At least in the Finger Lakes, kids begin playing lacrosse around four years old.
After graduating in 1924, Kraus played one season for the National Football League Buffalo Bisons. The season was October and November, against the Rochester Jeffersons, Columbus Tigers, Dayton Triangles, and other Midwest teams. Players were paid by the game, so after the season Kraus returned to Hobart to work.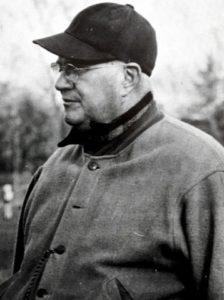 Kraus held many titles at Hobart over the years. Eventually, he was professor of physical education, and director of athletics. His coaching history included varsity and freshman football, varsity and freshman basketball, and varsity baseball. These were short stints compared to being the varsity lacrosse head coach. He held that job from 1927 to 1966, with a record of 207 wins, 120 losses, and 5 ties. Fifty-seven of his players earned All-American status, a national honor for skill and sportsmanship.
In 1956, the annual North-South Senior All-Stars lacrosse game was held in Geneva, in part to honor Kraus' 30 years as Hobart lacrosse coach. As shown by the Geneva Times headline, it was much more than just a game. There was a downtown parade, a lacrosse queen beauty pageant, and lacrosse workshops. In addition, there was a dinner dance at the Geneva Country Club in Kraus' honor.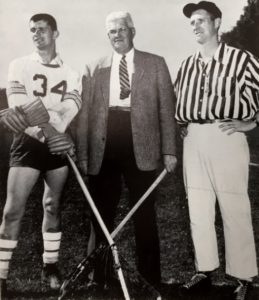 Kraus' sons Joe (right, class of 1950) and Jon (class of 1955) played for him at Hobart. The college yearbook notes of Jon's senior year: "To those who know this family it must have given them a mighty chuckle this spring to see Captain Jon arguing with brother Joe as referee while father 'Babe' looked on knowingly from his coaching spot." Kraus' grandsons continued the family Hobart tradition: Jim (1974), Jerry (1979), Joe and Jamie (both 1980).
In 1965, Kraus was inducted into the Lacrosse Hall of Fame at the old Boswell Field. He passed away the following year after suffering from pneumonia.
Kraus' name is kept alive locally, regionally, and nationally. The Francis L. "Babe" Kraus '24 Memorial Award recognizes a Hobart senior for sportsmanship, leadership, and scholarship. The Kraus-Simmons Trophy is contested between Hobart and Syracuse, honoring Roy Simmons Sr., Syracuse's legendary coach.  Finally, each year the US Intercollegiate Lacrosse Association (USILA) gives the "Babe Kraus Award" to the Division III College Coach of the Year.
Postscript: What is a "gutted stick"? I found the phrase in a poem quoted in the March 26, 1954 Geneva Daily Times "Press Box Patter" column. It refers to when lacrosse sticks were strung with gut or rawhide.