Banjos, Mandolins, and Glee
By John Marks, Curator of Collections and Exhibits
I have many favorite historical photos of Geneva, but the 1893 Hobart College Banjo & Glee Club is in my Top Ten. Those clothes, those haircuts, those instruments! As a player and fan of banjos and mandolins, I am interested in their popularity at that time. Today many people associate banjos with the 1972 movie Deliverance and don't know what is a mandolin. Glee is now associated with the FOX TV show of the same name.
Fretted instruments gained popularity in the latter 1800s. Parlor guitars had small bodies and short necks which were easily played by women. (Bringing music and culture to a home was seen as woman's work.) Banjos were associated with minstrel shows and saloons but companies broadened their marketing. They told women that banjos promoted better posture and were easier on the fingers than guitars. At the same time, companies assured men that the banjo was still a manly instrument.
Mandolin clubs popped up in the 1880s after Italian mandolin orchestras toured America. (The European mandolin had a round or bowel back, the modern American flat-back mandolin was developed in the early 1900s.) Geneva had a mandolin orchestra in the 1890s that included mandolins, guitars, a flute, and a cello. Their 1892-93 advertising card stated their repertoire included pieces by "Trotere, Jaxone, Czibulka and Schubert, as well as the popular music of the day."
Although we may associate glee clubs with any popular song, a glee was a specific type of song arranged for three or four a cappella parts. In the mid-1700s the first glee clubs were formed in London, England. These were traditionally male and organized through social clubs or schools. The style of glee changed through the 18th and 19th centuries following classical music tastes from Italianate to Romantic. An 18th century example of the glee "Discord!" included these lines:
But lovely Peace in angel form

Descending quells the rising storm.

Soft ease and sweet content shall reign

And Discord never rise again.
In the 1850s glee clubs came to America as their popularity in England was waning. They were popular in high schools and colleges. Based on brief research, glee clubs were found at many of the older prestigious colleges and universities: Harvard, Yale, Princeton, and Cornell. Cornell's first group, the Orpheus Glee Club, formed in 1868 the first semester the university was open. However, this was decades before "The Whiffenpoof Song" became associated with Yale. Glee clubs stuck to the original form or other classical songs.
Hobart College's glee club had a shaky history. In the spring of 1879 the Hobart Herald newspaper said a club had existed on paper for some time, but now there were members who "really mean business…and who hope to always be a credit, and not a reproach, to the College." By December of that year the paper remarked, "We have entirely forgotten that we ever had a Glee Club." Even as the club solidified in the 1880s, they were unfavorably compared to other college clubs that sang in Geneva.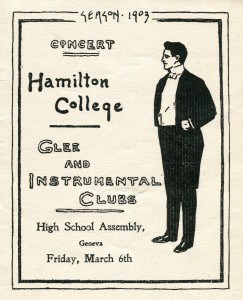 As you can see from the 1893 photo, the Glee Club became popular. Banjo and mandolin clubs had separate members and officers but commonly performed with the glee club. (Several companies sold "Glee Club" brand tenor banjos.) While Hobart never reached the level of other college groups, they gave concerts in Geneva and surrounding towns: Phelps, Canandaigua, Seneca Falls, Elmira, etc. Programs printed in the newspapers specifically mentioned singing glees as well as other selections. They often sang as fundraisers for the college's new baseball team or other benefits.
William Smith College began in 1908 and had a glee club from its early years. There is no evidence that the women played banjos or mandolins, and they tended to sing cantatas rather than social songs. In the early 1930s the glee club was replaced by a choral society.
Geneva has a rich, interesting musical history that the Geneva Historical Society will be exploring this year. If you have stories, songs, instruments, or photos to share with us, please contact me at 315-789-5151 or jmarks@genevahistoricalsociety.com.