Dissected Maps: The Origins of Jigsaw Puzzles
By Amy Pepe, Visitor Services and Public Programs Manager at Rose Hill Mansion and Johnston House
The origins of jigsaw puzzles go back to the 1760s when European mapmakers first pasted maps onto wood and cut them into small pieces. British cartographer and engraver John Spilsbury (1739-1769) is credited with inventing the first jigsaw type puzzle in 1767, although it was not yet called a jigsaw puzzle. What he made were called dissected maps. Dissected maps have been a successful educational toy ever since and children today still use them to learn states and countries. Over the past 250 years this educational toy has remained popular among children but also evolved into one of the most popular pastimes for American adults. Jigsaw puzzles have literally been made in all different shapes and sizes and for many different purposes from relieving boredom and stress to being used as an advertising tool.
Dissected maps are the earliest known iteration of the jigsaw puzzle. In the 18th century there was a shift in how people (or at least how wealthy parents) saw their children not just as miniature adults but as individual beings. New theories of education sprang up and as early as the 1690s philosopher John Locke had advocated the use of educational toys. Dissected maps were a natural extension of these ideas.  The main aim of the dissected maps was not solely to entertain but to teach geography. King George III's children are known to have used dissected maps as early as 1760; given the size of the British Empire at the time, it would have been imperative for his children to know their geography.
Spilsbury, at this time one of the only makers of dissected maps, had a catalog of over 2 dozen maps of the world, continents, and individual European countries. He engraved and printed the maps himself then pasted them onto wood boards and cut them along geographical boundaries. Spilsbury catered to the affluent and dissected maps were very expensive to purchase. At a time when the average English worker earned 1-2 shillings per day, Spilsbury's products outpriced most of them ranging from 7-21 shillings per map.
Before long, others began making dissected maps and other similar puzzle type products during the 18th century. In 1787, Charles Dilly created "Engravings for Teaching the Elements of English History and Chronology" which taught children to chronologically piece together the sequence of English monarchs. Puzzles depicting well known religious and moral tales were also made during this time.
Though altered somewhat, dissected maps have stayed popular pretty much since their inception and also gave rise to the modern jigsaw puzzle. We are fortunate to have some examples of dissected maps in our collection at the Geneva Historical Society and you can still find dissected map puzzles in nearly any toy store today.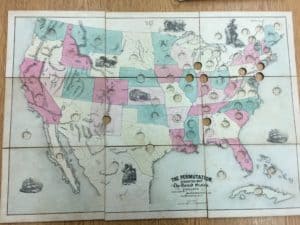 "The Permutation" Dissected Map of the United States, produced by Milton Bradley, c. 1910. This puzzle challenged students not only to assemble the United States in the correct configuration, but to place smaller circular pieces with the state/territory name in the right place.