Just a Piece of Wood?
By John Marks, Curator of Collections and Exhibits
In 2013 filmmaker Jim Augustine made a documentary about Club 86 in Torrey Park. The following spring it premiered at the Smith Opera House. After the show Alan Schenck came up to me with some photos. I knew Allan on sight from around town but had no knowledge of him or his family.
He told me that his parents were local musicians back in the 1940s and 1950s, and attended shows at Club 86. After the show (and some of these went late) they would often invite the band back to their house in Seneca Castle for a drink.

The Schencks had an upright piano; the front piece above the keys had three panels and a music holder. When musicians visited, whether local or famous, they would scratch their names in the wood. The piano is gone but the family saved that one piece.
Then Allan pulled out the photos.
I don't remember in which order I saw the pictures, but Nat King Cole and Maria Cole (Nov. 24, 1950) probably jumped out at me first. My parents, born in the 1920s and 1930s, were big fans and I grew up with his music. I knew Cole had played a one week stand at Club 86. One of the employees recalled seeing him practice every afternoon for several hours.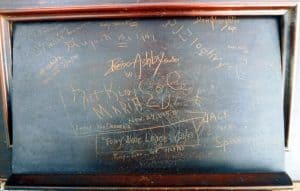 The next names were Louis Armstrong and Velma Middleton (6/15 – 16/49). "Hello, Dolly" was a hit when I was young and Armstrong was everywhere in the media. More recently I learned of Velma Middleton on live recordings of Armstrong's All-Stars. She did a comedic duet with Armstrong of "Baby, It's Cold Outside" as well as being the band's female vocalist.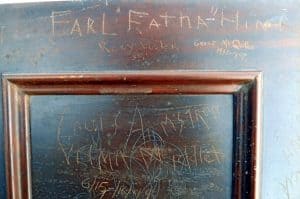 I recognized Earl "Fatha" Hines but knew the name without knowing the man's whole story. You can look for him on Wikipedia but he's regarded as the greatest jazz pianist of all time. He was probably working with Armstrong's All-Stars – a step down for him – when he signed the piano.
The Internet helped with names I didn't recognize. The signers themselves helped by sometimes including their instrument and date. Milton Buckner, Johnny Board, Irving Ashby, and Wendell Culley were sidemen working with the more famous band leaders.
The photos of this piece of wood gave – and still give – me goosebumps. (I haven't seen it in person – yet). Why should this artifact matter?
We live in a time of fame and separation. "Everyone" (not me and I suspect many of our readers) wants to be famous, and separation from the public comes with that. By the Club 86 era (late 1940s to early 1950s) these performers were very famous through radio, records, and movies. Yet a couple from Seneca Castle could walk up after a show and invite them out to the house for drinks. More surprising, the musicians said yes.
The Schencks were white and many of the folks that came to their house were black. This was not a small thing. There was segregation and racism in Geneva. Downtown hotels didn't take in black musicians, they stayed with families or in other towns. If I were in Louis Armstrong's or Lionel Hampton's shoes, I don't know that I would have gone off to a white stranger's house. The Finger Lakes wasn't Alabama or Mississippi, but why chance it?
Allan was born after the Club 86-musicians-at-the-house phase of his family's life. His parents have passed away so many of my questions – "Why? How? What were they like?" – may be left unanswered. With more research I will expand this into an article for the Finger Lakes Times "Looking Back" page at some point. For now we have whatever stories may be gleaned from names on a piece of wood.