How Does Our Holiday Celebration Compare to the Victorians?
By Mel Oles,  Visitor Services and Programs Manager at Rose Hill Mansion and Johnston House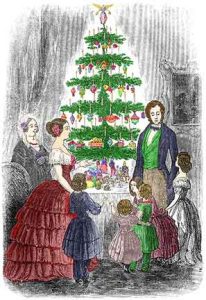 It is that time of year when many of us perform traditions and rituals that have been passed down to us or were inspired by popular culture. Do you know where your traditions come from? The Swan family lived at Rose Hill Mansion from 1850 to 1890. How did they celebrate the holiday season? Is it similar or different from our traditions today? If we look at the people of the past, we will see how they are similar and different in their celebrations. We may even get inspired to try some new traditions.
During the Victorian Period (1837-1901) celebrating the Christmas holiday changed. The Victorian Period was a time of a great deal of change in America. Factories were producing goods to make life easier and people started to earn more money. At this time people started to celebrate more, buy decorations and gifts compared to earlier times.
The Swan family did not have as many activities to do in winter compared to the warmer months and looked forward to celebrating Christmas. The winter months could bring isolation because of the weather. Today we have electricity, internet, and screening services so the changing season does not affect our way of life as much.
How did families like the Swans decorate their home for Christmas? The Swan home was already decorated with bold wallpaper, heavy curtains and beautiful furniture on a grand scale. At Christmas the mansion would have looked even more wonderful. Like today, they would have begun decorating the mansion weeks before Christmas. They would have put evergreens on the front of the mansion. The Christmas tree was usually put out Christmas Eve and taken down on January 6, the twelfth day of Christmas. However, the tree would be placed on a small table in the front parlor. People would use what they could find outdoors to make homes look and smell wonderful. Plants like holly, ivy, mistletoe, cranberries and pine branches were brought indoors to decorate.
Today we are feeling the effects of the supply chain as we buy gifts for the holiday season. Previous to the Victorian Period, children received handmade toys and clothes. During the Victorian Period gifts became an essential part of the holiday. Stores started selling more manufactured goods, newspapers told stories of gift giving and marketing increased. Gifts were put under the tabletop tree or hung on the tree. Popular gifts at the time were wind-up toys, sleds, rocking horses, dollhouses, and miniature zoos.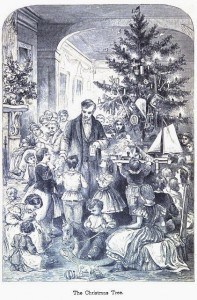 Christmas Eve was an exciting night. The tree was put up, people played games, sang, danced and read stories. In the country, families would go on hay rides through the snow. The passengers would drink hot apple cider and sing Christmas carols. Many families would attend nighttime church services. A special log was added to the fire with the hope it was big enough to burn until Christmas Day. This log was called a Yule Log. It was believed to bring good health and luck. Compared to today, when night would fall in the parlor, they would tell ghost stories. The most famous ghost story is A Christmas Carol by Charles Dickens. I like the idea of turning off devices and telling stories, even ghost stories around a fire on Christmas Eve.
Do you have a similar tradition to the Victorians or will you try one this season? The holiday season brings to mind many memories, traditions and rituals. I hope you are able to celebrate this holiday season with friends and family and share in some beloved old-fashion holiday traditions. Happy Holidays.