Oh, those 1960s Cars!
By Karen Osburn
I am not a car buff.  My vehicle doesn't have to be sporty, exotic or sexy, but it just needs to get me from my home to my destination safely and comfortably.  People who know me well know that I really prefer to drive a truck, preferably a full size pick-up truck. In my life I have had several and loved each and every one of them.  I was especially fond of my Ford F-150 that came in a color called "Sapphire Blue Clear Coat Metallic".  Ford may have made that color for a couple of years and the name of the color was deceptive, it was a lovely shade of blueish purple.  For almost 10 years I drove that truck and had about 210,000 miles on it when I sold it.  What a great ride!
For a variety of reasons I now drive a car instead of a truck.  Gas mileage, purchase price, and changing life style all brought me to the sad realization I would be better off buying a car. I say sad because there are places you can drive a truck that you just shouldn't take a little 4 cylinder Chevrolet Aveo.  Woodland dirt roads, barnyards, pastures, fossil hunting, camping and any surface requiring a clearance of more than 6 inches come readily to mind.  Oh I don't dislike my car, it is reasonably versatile, and gets decent gas mileage, but I have no confidence in its ability to navigate the enticing dirt roads I encounter in the Finger Lakes.
I once had a car that I thought would take me anywhere I wanted to go.  That car, my first car, was a 1967 Pontiac LeMans, metallic blue with a black vinyl roof, automatic shift on the floor, front bucket seats and a humming V-8 engine.  It was not the biggest V-8, but when you tromped on the gas that car would hustle!  I remember being at stop lights on Ridge Road in Rochester and having someone in a car next to me revving their engine and when the light turned green we would both step firmly on the gas…I almost always got away from the light first, not racing mind you, just testing whose car accelerated the fastest.
That car took me to Michigan, the Canadian Province of Ontario, Niagara Falls, Quebec, and camping in the Adirondacks.  It had an enormous trunk that I could pack half my belongings in, or at least a week's camping equipment.  Driving was fun in that car. The car felt like it could take me anywhere.
I remember the cars of the 1960s and early 1970s well.  There were really "muscle cars" in those days.  You could order a car from the dealer and choose the engine, transmission, positive traction if you so desired, and interior and exterior colors to name a few of the accessories you had control over.  Your new car could be very individual.  Some people ordered small cars like Chevy Novas or Chevelles and got big V-8 engines put in them.  Those little cars were inconspicuous on the highway but could really move given the opportunity.  Mustangs, Thunderbirds, Cobras, Corvettes and Barracudas were popular with men young and old.  My cousin raced stock cars; he had a Pontiac GTO.  He spent a LOT of time working under the hood, mostly on the carburetor if I recall.  It was a super sensitive vehicle and required lots of TLC and Do Re Mi.
Back in those days when you drove on the road you could usually identify the model of the auto in front of you just by its appearance.  Sure the various GM brands had a lot of the same identifying rear features like trunk design, lights, and bumpers but you could really tell the difference between a Chevy, a Ford, an AMC product, and a Chrysler product.  Volkswagens were on the road during that time but they had two models, the beetle and the bus.  There were a couple Japanese cars at the time; I recall the Datsun 240-Z but I don't recall the name of any of the others.  I did know someone who owned a Porsche; it was always up on blocks being fixed.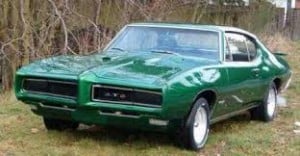 Those were the days that in my naivety I thought that General Motors could never get into financial difficulties because the whole country would go down with it… turns out I was wrong about that.  Of course those were the days that Kodak employed over 60,000 people in Rochester, Bausch & Lomb was riding high and Xerox was also doing very well.
Today, the closest I get to the days of those great muscle cars is Crusin' Night in Geneva, when the City closes Seneca Street, part of Exchange and Castle Streets and celebrates the days of interesting, diverse and "sexy" cars.  From that event I have seen some wonderful memories.  I even saw a Chevy Vega Station Wagon, the second car I drove.  At the time I didn't like it, but I would love to have that little station wagon today.  What happened to station wagons?  Boy, could I use one of those!  Practical and comfortable the closest I can come to one now is an SUV, not quite the same thing.  That is why I bought my little Aveo hatchback; it is a tiny bit like a small station wagon.
Also, many of the cars today seem bland.  To my eye they are all styled pretty much the same, if I look at a parking lot the colors are uniformly drab; black, white, various grays, silver, the occasional red or blue.  Seldom do I see a color that stands out. The interiors are not much better with various tans, greys or blacks. Several people I know have attempted to get into cars that were not theirs because they looked so similar.  I am not surprised people put decals on their cars, how else would you know it is yours?
I hope this reminiscence of mine has stirred some memories for you.  Perhaps you are remembering with great fondness your car(s) from the 1960s and 1970s.  Maybe you had a Plymouth Fury Station Wagon, an Oldsmobile Cutlass, a Chevy Biscayne, a Pontiac LeMans, an AMC Gremlin, a Ford Mustang, Ford Pinto, Chevy Vega, Pontiac Trans Am or a Volkswagen Beetle.  Per chance you are remembering a car colored burnt orange metallic, deep maroon, autumn gold, light green metallic, bright blue metallic or even Volkswagen tan and wistfully wondering whatever happened to that nostalgic ride.  I am afraid I don't know what happened to your favorite car, but I do know that there are lots of car shows and crusin' type events with some great cars.  Come visit Geneva's Crusin' Night in July and get a view of some of those storied rides.  But while you are waiting for July, come to our Swingin' Sixties Party  in March and enjoy some more memories.