Christmas in Geneva 50 Years Ago
By John Marks, Curator of Collections
I thought it would be fun to look at the 1968 Geneva Times and see what  it shows about Christmas that year. I relied on advertisements and I looked no further than Wednesday, November 27, the day before Thanksgiving. Friday, November 29 was the start of the holiday shopping season and the newspaper had a local advertising supplement.
Today there's talk about Christmas sales on Thanksgiving ruining the holiday and taking retail workers away from the family table. However, the Family Bargain Center was open from 3 pm to 9 pm. Downtown businesses weren't open until Friday.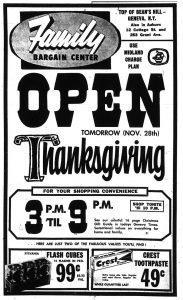 Family Bargain Center was a chain of stores in New York and several other states from 1957 to 1973. Bean's Hill was the top of Hamilton Street around the Pre-Emption Road intersection. Midland Charge Plan was an early credit card.

There was a full-page ad promoting downtown businesses. Since 1957 the Town & Country Plaza on Hamilton Street had competed with downtown for shoppers. Its stores were new, there were hundreds of parking spaces, and it had a covered walkway between stores. In addition, in 1967 Arnot Mall had opened an hour away in Horseheads. There were 90 stores of indoor comfort spread over two levels.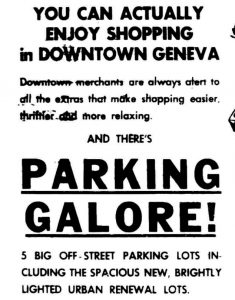 Then as now, downtown businesses talked about their attention to shoppers and small details that made shopping more pleasant. In 1968 a selling point was new off-street parking lots, especially the one on Seneca Street. The intent of Urban Renewal had been to find developers to build new businesses after areas were cleared. When that fell through, merchants advertised the parking lots as a good thing.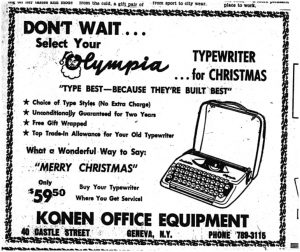 I hoped to find ads that showed popular gifts of that year and decade, and I wasn't disappointed. Typewriters weren't necessarily fun but Christmas has always been a time for giving things a person needs. (You don't want socks and shirts, but you need them.) It would be a great gift for a 1968 college student who didn't have $60 to spend. As a student in the late 1970s, I know a typewriter was a hot commodity at the end of a semester.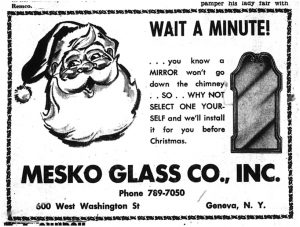 As an adult, I've run out of things to ask for at Christmas. I have all the toys I want, I need the time to play with them! I can imagine telling my wife, "Oh, just get me  a mirror for Christmas."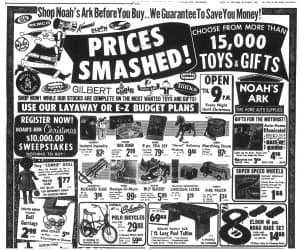 In 1968 I wanted lots of toys for Christmas, and Noah's Ark on the corner of Castle and Exchange Streets had all of them. My top picks would have been the road race set, the pool table, and the bicycle with the banana seat and cool shifter on the crossbar.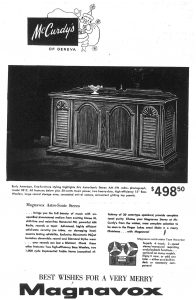 McCurdy's in the Town & Country Plaza always had the nicest things. The 1960s was the era of big home electronics in early American-style furniture. This Magnavox stereo featured AM-FM radio and a turntable; a reel-to-reel tape recorder was extra.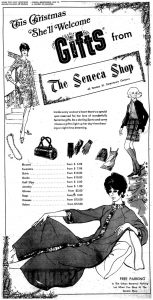 Seneca Shop Ad – Clothes have always been big gifts items. The Seneca Shop, Keilty's, Stanley's, Peck's, J.W. Smith, and other clothing stores were in full swing in 1968 and took out ads.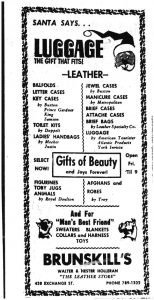 Brunskill's Ad –  Brunskill's on Exchange Street began as a harness and saddle shop. As automobiles replaced horses, the business moved into other leather goods like suitcases and briefcases. They expanded into gift items that would appeal to shoppers looking at wallets and key cases.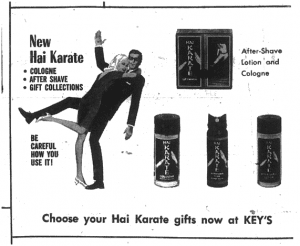 In case I've made you nostalgic for the good old days, I'll close with the gift no father ever wanted: Hai Karate. In addition to questionable advertising, it offended every nose in a closed room. As a dad, I'm very grateful my son has never given me after shave for Christmas.
For more about local holiday memories and traditions, watch the latest video in our Geneva's Stories series.