What's In A Name? Geneva's Street Names
(From October 1997 Historical Society Newsletter)
Here are stories behind some of Geneva's street names.
Atwood – George Gray Arnold, managing partner of Selover, Atwood & Company, a nursery firm owned and operated the property on which this street was cut.
Bradford – Probably named for lawyer John M. Bradford, who was the village president from 1844 to 1848 or author Sarah Bradford.
Brook – Named for Castle Brook.  North Brook was not established until many years later.
Castle – Since the earliest days of Geneva, this street followed the Native American trail from the lake to the  settlement or "Castle" of the Senecas (near the Experiment Station).
Colt – Samuel Colt owned a large tract of land in the area called Colt's Meadow.  He was one of the earliest Geneva merchants (1790s).
Delancey – The DeLancey School for Girls was located at what is now number 46, and the school was named for the Reverend William H. DeLancey, the first Episcopal Bishop of Western New York.
Exchange – First called Front Street, then Water Street.  In the 1870s the merchants there requested for name change because of all the trading going on in that location.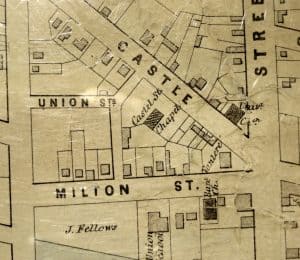 Folger – Named for one of Geneva's most famous citizens, Judge J. Folger.  At the time of his death in 1884 he was serving in President Arthur's cabinet as the Secretary of the Treasury.
Hamilton – Originally called Middle Street in Geneva's earliest days.  Named for Alexander Hamilton, the first Secretary of the Treasury in the United States.
Humbert – Once called North Sherrill (on maps before it was developed), the street was named for the King of Italy when it became settled by Italians at the turn of the century.
Lafayette – Named in honor of General LaFayette who came from France to aid the colonies in the Revolutionary War.  He visited Geneva during a tour of the county in 1825.
Nursery – This street was the site of the large nursery business for many years.
Pulteney – Geneva was included in the Pulteney Estate which was all the land in New York between Seneca Lake and the Genesee River.  n 1792 this area had been purchased by Sir William Pulteney of Bath, England and his associates.  Originally this street was called West Street because it formed the west bounds of the settlement.
St. Clair – Originally called South Street on the earliest maps, the street was named for General St. Clair of Revolutionary War fame.
Sherrill – Eliakim Sherrill, former Congressman and business man, retired to Geneva and purchased a farm where this street is situated.  He became the colonel of the 126th Regiment New York Volunteers and died at Gettysburg on July 4, 1863.
Tillman – William Tillman was a member of a prominent early Geneva family.  He built the Franklin House in 1825, and was on the committee that welcomed LaFayette when he visited Geneva in the same year.