Rose Hill Mansion's Landscape: Aesthetic & Utilitarian
By Mel Oles, Visitor Services and Programs Manager at Rose Hill Mansion and Johnston House
Over the years the look and uses of the Rose Hill property has changed. The families that lived on the property used it in very different ways than the hired workers. The natural landscape and formal gardens to the families was a source of pleasure and leisure while the agricultural landscape was a source of employment for farm workers.
During the mid-19th century a trend occurred in Fayette—wealth businessmen from New York City were coming to the area and becoming gentlemen farmers.  Rose Hill Mansion would be one of these "gentleman farms." Robert Swan and his family lived at Rose Hill Mansion from 1850-1890. The wheat production would peak during his time farming the land.
When you visit Rose Hill Mansion today you will see historic buildings, flower gardens and views of Seneca Lake.  When Robert Swan lived at Rose Hill he had a diverse working farm. He grew wheat, corn, buckwheat and potatoes. They also had a pigs, hogs, chickens, ponies, Durham and Devon cattle and Leicester sheep.
If we could travel back in time we might have seen servants  hanging laundry in the yard and gathering water from the wells. We would also see farmhands working in the fields , driving sheep or filling the wood shed. From census records and Robert's account book, we know a little bit about farm workers at Rose Hill in the mid-19th century. Many were Irish immigrants driven here by the Irish Potato Famine of 1845-1852. Most farm workers were seasonal, hired on for haying or harvest. Robert also hired year-round farmhands who lived on-site in tenant houses. These tenant farmers earned less than the seasonal workers and tended to be men with families.
The Swan family used the mansion's property very differently from the surrounding farm land. The mansion's landscape was used as a source of enjoyment and social bonding. They would play games in the front lawn, sit outdoors under the shade of a tree or sit on the front porch. The family also had a formal garden on the south side of the mansion where they enjoyed flowers
Today you can visit the grounds for free year round from dawn to dusk.  Historic Geneva holds various events on the grounds, which will return in 2022. To learn more about the landscape at Rose Hill Mansion, join us for a grounds tour on Thursdays . The tour schedule, admission and information can be found on our website. We hope to see you soon!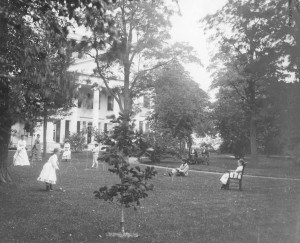 Historic Geneva tells the stories of Geneva, New York.  Discover  these stories online and in person through the Geneva History Museum, Rose Hill Mansion, and Johnston House.