Women's Fashions in the 1940s
By Alice Askins, Education Coordinator at Rose Hill Mansion
Fashion changes all the time, sometimes quickly and sometimes slowly. In the 1940s, women's clothing did both at the same time. In some ways the evolution of women's fashion stalled for a while because of World War II. An a-line skirt coming to below the knee, with a broad-shouldered jacket or blouse, persisted as the basic silhouette for women through about 1947. In other ways, women found new options for dress and clothes for different circumstance.
As you might expect, the war affected 1940s women's fashion in several ways.
Since the 1800s France had led women's fashion and it fell to the Nazis in 1940.
Some of the big couture houses closed their doors while others tried to stay open, if only to keep their legions of employees in work.
To shop French couture during the war you, however, had to have German permission.
French design took its own course during the occupation, and tended to be on the frivolous side.
The vacuum at the head of the fashion industry gave designers in other countries the opportunity to make names for themselves. In the United States, designers for films became influential. Gilbert Adrian and Edith Head both designed clothes for films and for street wear. Claire McCardell, Norman Norell, and (French-born) Pauline Trigere were other American designers who came to prominence in the 1940s.
The problem for all designers was that food and gas were not the only things rationed. The war effort imposed limits on the yardage that could be used for garments, the amount of trim you could use, the fibers you could make into civilian clothing (a lot of rayon was used) and even the cut of a skirt or suit. A skirt hem could be only 2" deep, for instance, and only so many inches in circumference. Pockets and belt loops were not allowed. Belts could be only an inch and a half wide. The allowed circumference for a skirt hem was fairly generous here in the United States (it could be 70") but most skirts were narrower. People wanted it to be evident that they were complying with the regulations and helping with the war effort.

While fashion was marking time in some ways, it was also expanding a few options for women.
With men gone into the service, many women filled their roles in manufacturing.
The new work demanded appropriate clothing.
It meant that for the first time, large numbers of women got used to wearing pants, overalls, and coveralls.
Turbans, scarves, and snoods appeared first in the factories as women wore them to keep long hair out of machinery.
Soft loafers or moccasins were worn to work on aircraft to prevent dents and scratches on the metal.
Comfortable, functional work styles tended to migrate into women's off-duty hours.
Despite, or perhaps because of, their foray into "men's" work, women were still expected to look as pretty as possible.
This was intended to keep up their spirits during a difficult time.
It was also supposed to inspire the men at war to heroic efforts.
Women's waistlines were always defined in the 1940s.
In Britain, makeup became impossible to obtain during the war years, because it was made from materials valuable to the war effort (like petroleum products and alcohol.)
In the United States, though, makeup was always available and women were expected to wear it.
For women in uniform, there were certain shades of lipstick and rouge required to be worn with them.
With a relaxation in some areas of women's wear, play clothes developed. In the early 1940s, these consisted of shorts with skirts worn over them (shorts were too brief to wear by themselves in public). The removable skirt allowed women to appear in public as though wearing a dress, but to streamline for sports or beachwear. Later playsuits were skirtless. Swimsuits continued a long trend toward brevity. Two-piece suits were popular in the 1940s, and the bikini was designed late in the decade. 
1940s playsuits
After the war, with the easing of restrictions, women's fashion changed its shape decidedly.
People were ready for a change.
France regained something of its leadership in couture, and French designers introduced a new look in 1947.
Dior generally gets credit for the New Look, but others were showing very similar shapes.
Shoulders became rounded and sloping, waists were nipped in, hips were padded and hemlines dropped again.
Some skirts became very full while some were very narrow.
Shoes had thinner heels and more pointed toes.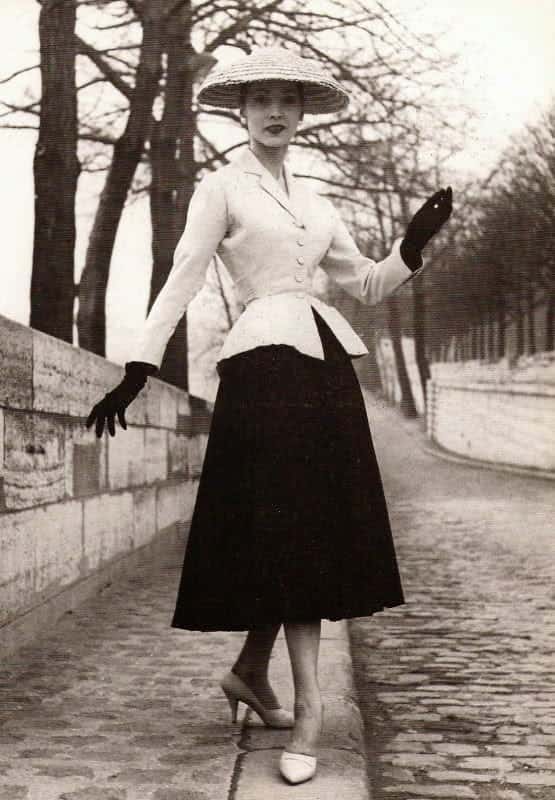 The New Look of 1947
Only about 25% of American women kept working after the war.
Some quit to return to domestic duties, while others were fired and replaced by returning men.
Many women who continued to work resumed traditionally feminine jobs in health care, office work, or teaching.
Images of housewives from the late 1940s and 1950s show women wearing the New Look to clean house.
We can assume, though, that most women faced with grubby jobs continued to wear the clothing they found functional for work during the war.
Don't forget our 1940s USO Canteen is Friday, February 27 at Club 86 from 6:00 p.m. to 10 p.m.