The Zoot Suit
By Alice Askins, Education Coordinator at Rose Hill Mansion

In keeping with our current emphasis on the 1940s, I looked in the local newspapers for zoot suits. Although zoot suits were known in some form from the early 1930s, the first Geneva reference I found was in 1942. On November 12 the Daily Times ran a story from Milwaukee about the theft of a pair of zoot suit trousers. The police lieutenant did not know what those were, so the complainant drew him a picture.  The lieutenant told his men to be on the lookout for a pair of pants "baggy from the ankles up."

A zoot suit had high-waisted, wide-legged, but tight-cuffed trousers, and a long coat with wide lapels and wide padded shoulders. It was usually worn with an exaggeratedly long watch chain. Zoot suits were often pinstriped and made in bright colors like yellow, green, bright blue, and purple. Zooters often wore fedoras or pork pie hats color-coordinated with their suits. This style of clothing became especially popular among the African-American, Latino, and Italian-American communities during the 1940s.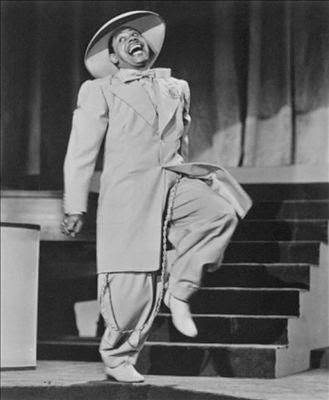 Cab Calloway in a zoot suit, from the movie 
Stormy Weather.
Shorting after the US entered World War II rationing became a fact of life.  The War Production Board's (WPB) first rationing act (March 1942) drew up regulations for wartime manufacturing. The board hoped to cut back on the use of fabrics by 26%. Clothing fell under restrictions. Hems could be only so many inches deep. Skirt hems could measure only a certain circumference. Suits lost their vests. Even such details as belt loops, pockets, and pocket flaps were regulated. Most people wanted it to be evident that they were complying with the government restrictions and they followed the rules as a demonstration of patriotism.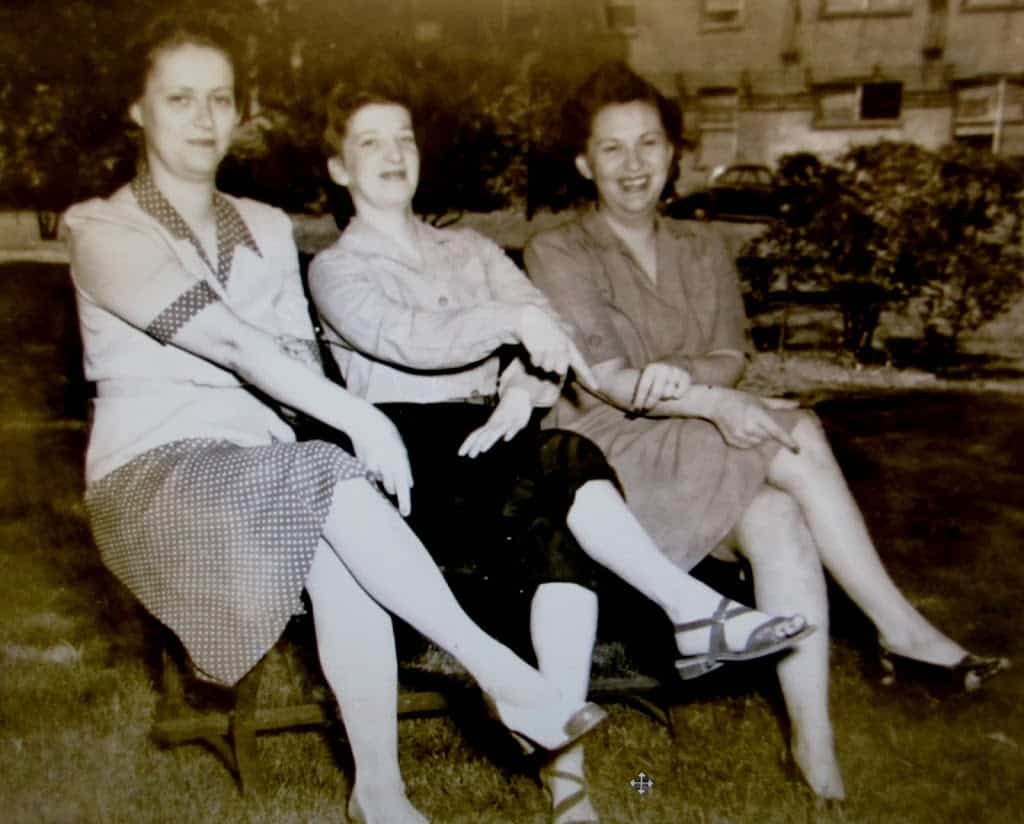 Geneva women pointing to their legs, probably to indicate that they are not wearing stockings.

The WPB rules effectively prohibited zoot suits, which required extra fabric.  Even though most tailors stopped making suits that fell outside the WPB guidelines some men still wanted zoot suits and a network of bootleg tailors based in Los Angeles and New York City continued to make them.  By the 1940s, zoot suits were strongly associated with gang members and gangsters.  In defying wartime restrictions, zoot suiters must have damned themselves further in the eyes of the majority, because the suit deliberately and publicly flouted the regulations.  To the ordinary American, zoot suits were unpatriotic, if not downright subversive.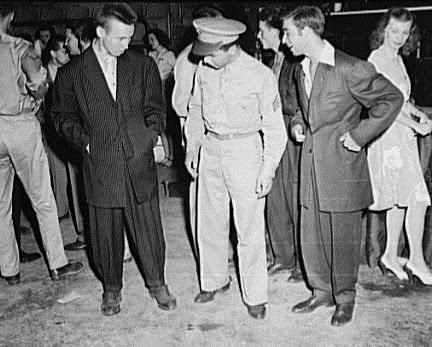 A soldier scrutinizes a pair of zoot suiters in Washington, DC, 1942.
Through early 1943, the Daily Times sounded indulgent about zoot suits: 
Jan 2 – American Democracy at Work in New York…A sample of how American democracy works was enacted last night when a Japanese basketball team played a Chinese five, with an Italian referee…

The Japanese team won…Then about 200 young Chinese and Japanese spectators – all American citizens like the athletes and referee—held a dance, of the zoot-suited jitterbug variety.

In June 1942, though, there were race riots in Los Angeles, between US sailors and marines and mostly Latino zoot suit wearers. The riots sparked similar incidents in other cities in California, Texas, Michigan, Pennsylvania, and New York. In LA, more than 150 people were hurt and many Latinos humiliated. Bands often wore zoot suits as stage costumes, and two of Gene Krupa's musicians were attacked and beaten as they left a performance.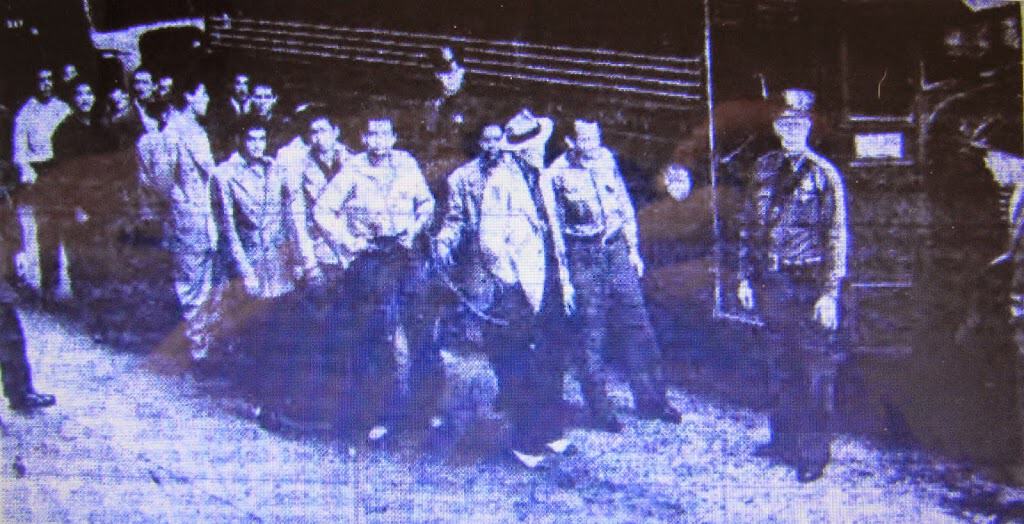 BREAKING THE ZOOTERS – Sailors and other servicemen got tired of being held up and assaulted by zoot suit ruffians in Los Angeles, so they tackled the zooters, beat them up and tore their suits. Here are some of [the] zooters arrested. Feud continued in several days of rioting.
The Daily Times followed the majority line on the riots, printing the above picture and caption.  (Present day sources place blame more on the sailors and marines than on the zooters.) On June 12, it reported that the Governor of California was naming a committee to probe the causes of the riots, and noted that the county grand jury would be meeting to assess "the causes of gang problems in this community."
On June 30, though, the Times printed an article about a Dr. Fritz Redl, an Austrian refugee then based in Detroit who specialized in child psychology. Dr. Redl distinguished between groups of people who wore zoot suits–some, he argued, were exclusively focused on dancing, and the suit was their costume.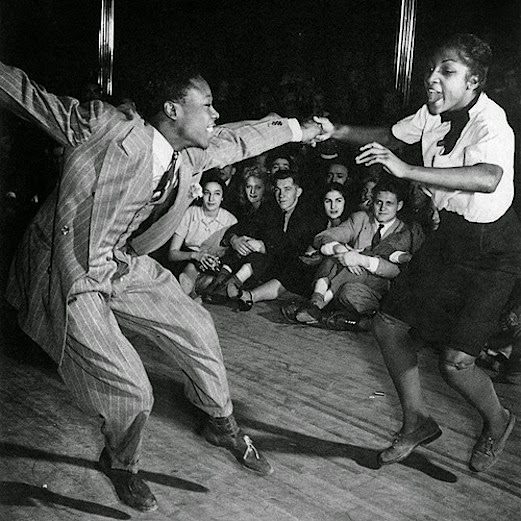 Dancing in a zoot suit.
Some were using the suit to rebel against adults, hoping to elicit annoyance, but that was the extent of their misbehavior. There were two other groups of zooters, not clearly described in the article, who were edging into criminal behavior, but Dr Redl believed that they just needed better youth programs. He also considered that "Young people who are not in uniform because of age, physical handicaps or employment seem to feel they can cover their humiliation at not having a standard uniform when they have something grotesque to wear." Dr. Redl also saw the zoot suit as a kind of anti-uniform, but suggested that it sprang from envy rather than hostility. He deplored the riots, claiming that the sailors used the suits as an excuse to attack Mexicans. "That kind of 'fun' is comparable to a lynching . . . This mob spirit, and the labeling of the youths, is the same basic phenomenon that gave Hitler his rise to power…"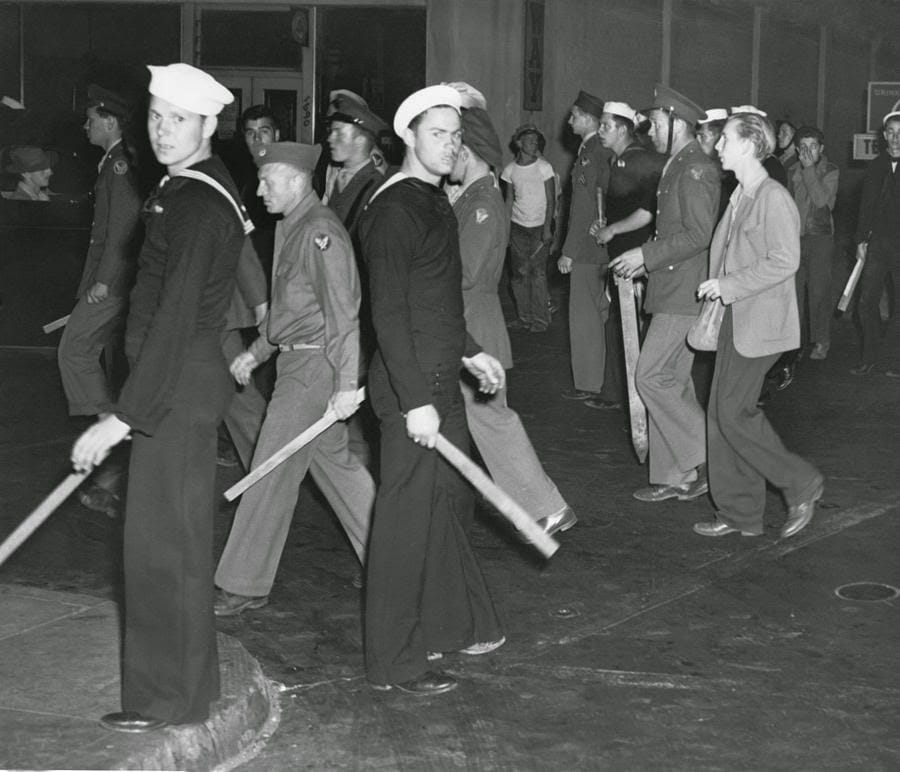 Los Angeles during the 
riots.
The remaining zoot suit references I found in the Daily Times were fairly evenly balanced. A month or so after the riots, the paper printed an article by Joseph E. Dynan from Puerto Rico, arguing that such racist events as the riots were hurting the US image in Central and South America.  In April 1944, the paper compared zoot suits to the clothing of the 1860s, and concluded that there is nothing new under the sun. In March 1945, the Times explained that a zazou was a Parisian zoot suiter. I found two further allusions to the suits in 1949, both negative in that the clothing of offenders was emphasized. One identified two young men who robbed a train as zoot suiters, and the other described a fight at a New York theater between ushers and a "gang" of zoot suiters who were said to have been hanging around the lobby, "hoping to create a disturbance."
1949 seems to have been the last hurrah of zoot, because the suits shortly went the way of all fashion.