Geography of Food in the 1940s
By John Marks, Curator of Collections and Exhibits
"Food deserts" are a current topic in government and academic research. The US Department of Agriculture defines the term as "urban neighborhoods and rural towns without ready access to fresh, healthy, and affordable food. Instead of supermarkets and grocery stores, these communities may have no food access or are served only by fast food restaurants and convenience stores that offer few healthy, affordable food options. The lack of access contributes to a poor diet and can lead to higher levels of obesity and other diet-related diseases, such as diabetes and heart disease."[i]
One could say this doesn't apply to Geneva; after all, we have Wegmans AND Tops! We're a small city and one place isn't that far from anywhere else. However, if you don't have a car for whatever reason, you become dependent on friends, taxis, or the CATS bus schedule. Then you know that Hamilton Street is not, in fact, centrally located.
Many readers, regardless of where they grew up, will remember this was not always the case. The historical society is blessed with a fine collection of city directories that show the type and location of businesses around Geneva. Let's look at what was available, and where, in the 1940s.
In the 1945 city directory, there were 46 grocery stores. Fifteen were part of chains: A&P, IGA, Loblaws, Market Basket (headquarters in Geneva), and Red & White. Based on surnames, many of the independent stores were owned by Italian Americans. The Market Basket and Red & White stores were out in the neighborhoods as well as downtown, often near independent stores.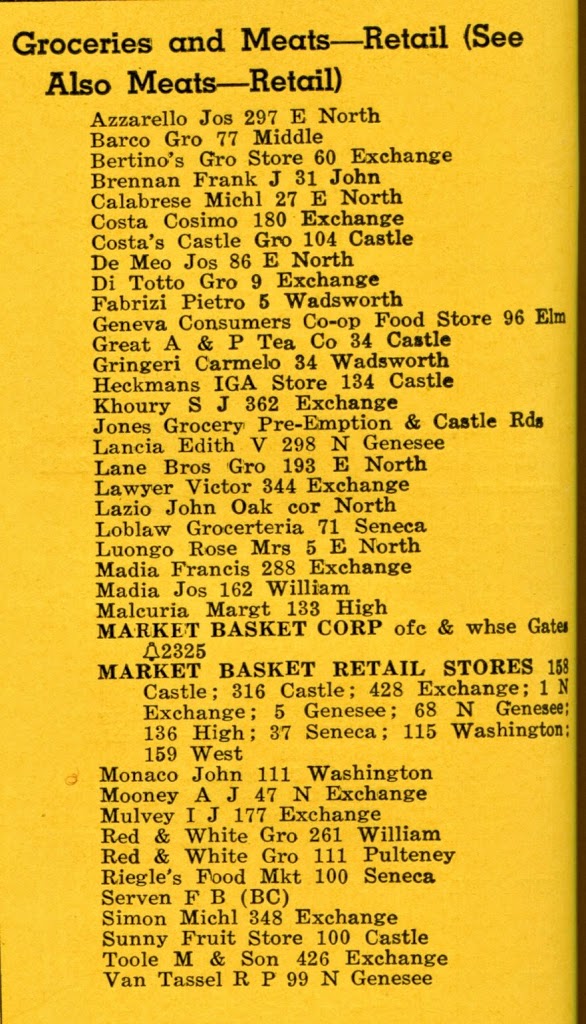 There were 10 meat markets, not counting the Market Basket headquarters.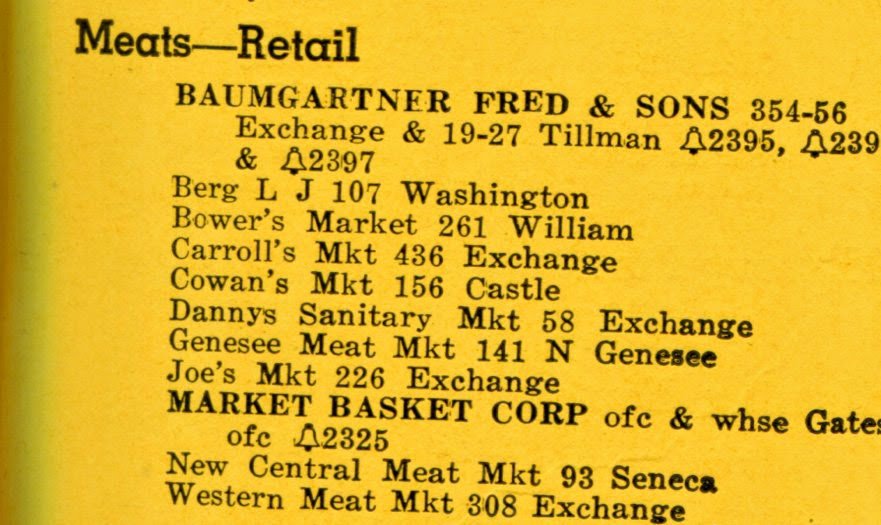 There were two local dairies – AJ Tarr and Geneva Milk Company/ White Springs Farm Dairy (located at the same address) – on opposite ends of North Street. While it doesn't fit the USDA definition of healthy food, there were seven confectioners selling ice cream and/or candy.
I mapped out the approximate locations of these businesses with the following colors: green = grocery stores; red = meat shops; blue = bakeries; and purple = dairies. I used a modern map and cropped the western section of the city that didn't really develop until after World War II; there were no food stores south of Hamilton Street.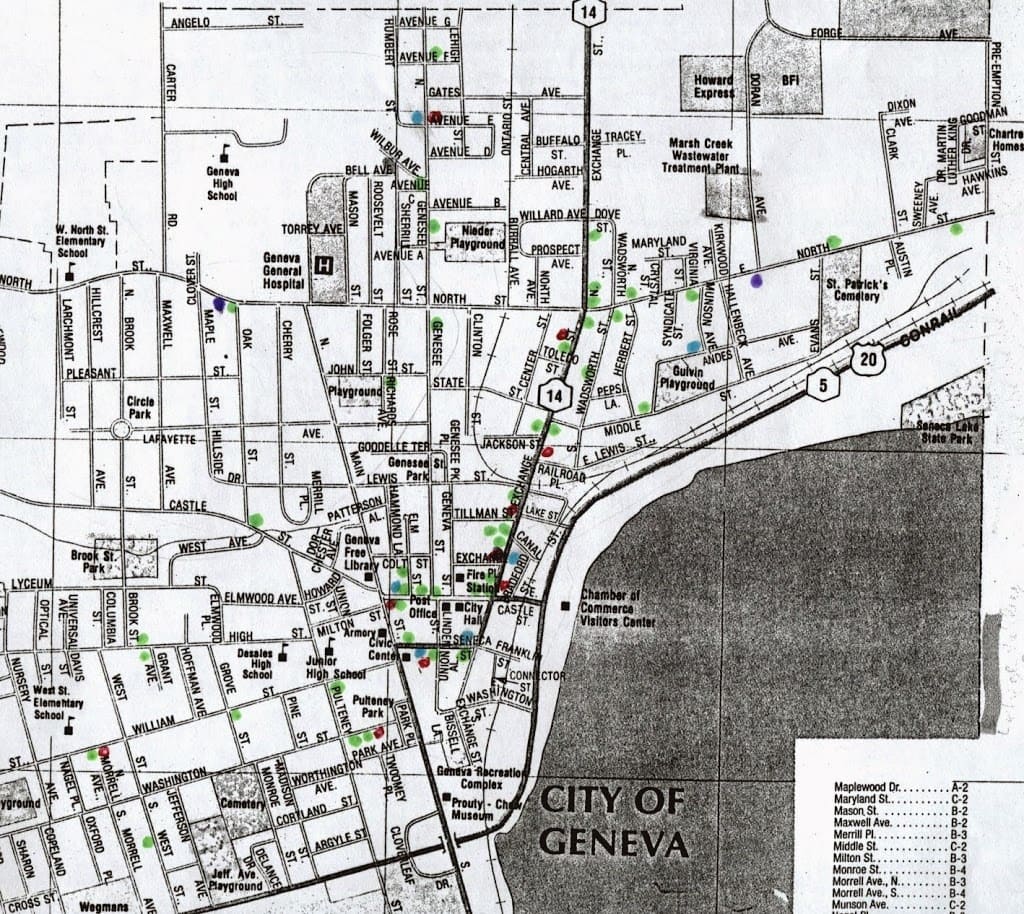 The heaviest concentration was in the downtown area. On Exchange Street, there were several stores in one block, often on the same side of the street. The working class neighborhoods of East North Street ("the Butt End") and North Genesee Street (Torrey Park) were well-supplied with stores. The area with the fewest stores was the fairly new, at the time, neighborhood west of Maxwell Avenue.
There are several points to keep in mind. Downtown was the center of commercial, and often social, activity; people were accustomed to going downtown on a daily basis. A good portion of the city was within three blocks of downtown (if we include all of Exchange Street) – not a bad walk. There was a public bus, operated by Lont's Bus & Cab Lines, that covered most of the city. Finally, the dairies and larger meat and grocery stores offered free home delivery.
There was greater access to food stores in the 1940s; obviously, wartime rationing, and poverty were limiting factors. Stores seemed to coexist with each other, particularly the chain and independent markets. It would take more research to determine the best prices – were goods cheaper downtown than in the neighborhoods? – and when small stores began disappearing.