Rationing and Recipes
By Karen Osburn, Archivist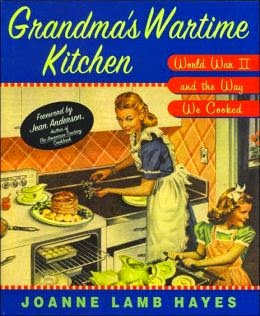 When I was in high school girls took "home economics" classes and boys took "shop" classes.  I remember coming home from the first cooking class in home economics and showing my mom what foods they were going to teach us to prepare.  My mother was not impressed, for that matter I wasn't either.  I only remember 3 or 4 of the recipes, but one was broiled grapefruit.  My mother said she had learned to make broiled grapefruit in her home making class three decades before mine and her comment was "Why on earth don't they teach you cook something useful, like a roast or vegetables?"  I tended to agree with her.  By the time I got to this "cooking class" I had been helping her cook and bake for several years and I would have been happier learning to do woodworking in shop class then broiling a grapefruit.  Why would you want to cook a perfectly good grapefruit?  I think it is pretty tasty in its natural, raw state.  In the 1960s the idea still lingered that the way to a man's heart was through his stomach.  In all the years I have cooked I have never had a man ask me to make him a broiled grapefruit just like his mom used to make.  I have been asked for apple pie or pot roast perhaps, but a broiled grapefruit, never!
Flash forward some four decades and I find myself looking for recipes that accommodate the rationing of scarce ingredients, such as butter, eggs, white sugar or milk during the years of the Second World War. The historical society is hosting an event at Club 86 in February revolving around WW II music, food and entertainment which prompted me to research recipes and I found some really interesting ones.  One that sticks in my mind is a British recipe for imitation mashed bananas using parsnips, sugar and banana "essence" (extract?).  I am not sure I can see the point of imitation bananas, except if you don't care for the taste of parsnips the whole concoction may taste better disguised as bananas.  What surprised me was locating a recipe that I had made in home economics class and

liked

! 
I really like chocolate, the darker the better and one of the food items we made was a chocolate cake that you mixed right in the baking pan and put in the oven.  It had vinegar in it and didn't sound great but sure tasted good and there was much less cleanup without the extra mixing bowl.  There in the midst of my World War II recipe research was the one useful, tasty thing I learned to make in that class.  I had no idea it had come from that era.  I was quite pleased and I'm looking forward to trying it again.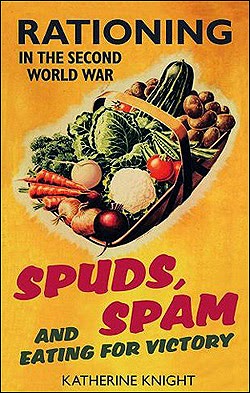 There were some really interesting recipes from the era of rationing and shortages.
One was a cake that had no eggs, butter or milk in it.
Someday I may try it if I am brave enough.
It sounds a bit like a fruit cake.
See for yourself:
Eggless, Butterless, Milkless Cake
1 package seedless raisins
Boil together the sugar, water, shortening, salt, raisins and spices for five minutes. Cool.  When cold, add flour and soda dissolved in a teaspoon of hot water.
The recipe makes 2 loaves. I suggest using greased loaf pans and baking about 45 minutes in a 325 degree oven.  The cake has a good texture and will keep moist for some time.
*From

Cooking on the Home Front: Favorite Recipes of the World War II Years

.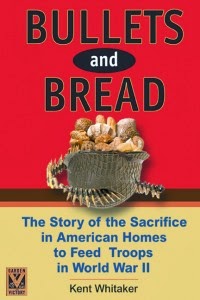 Another British recipe is called Raisin Crisps:
6 oz. self raising flour or plain flour with 2 tsp baking powder
A few drops of almond essence (extract)
Mix the flour, dried egg and sugar.  Rub in the margarine and add the raisins, essence and enough mild to bind into a firm dough.  Roll out thinly and cut into 2-inch rounds.   Cook in the center of a *moderate oven for 20 minutes.
*I would expect a moderate oven to be about 350 degrees.
Finally from Cookes.Com recipe search is a recipe for World War II Syrup Cake:
¾ c. Butter or shortening
Mix well, bake at 350 degrees in a loaf or Bundt pan until done (a tooth pick inserted in the center of the cake comes out clean.
I am glad we don't have to use recipes like this anymore.
Perhaps it was enduring some of the lingering war-time ration recipes as a child that made me a bit picky today, but I am not fond of parsnips or raisins even now.
  Still there is that quick and easy little chocolate cake.  Give people a few basic ingredients and a way to prepare them and you can be very pleasantly surprised by the result. I think I am going to go make up that cake now and see if it still lives up to expectations.