What is an Archivist Without Their Archives?; or Why Archivists are Up on their Tetanus
By Becky Chapin, Archivist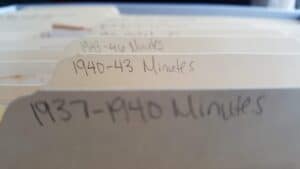 When we closed in March I brought home boxes from collections that needed to be inventoried and further processed. Among those boxes I found many folders of newsletters from the Geneva Rotary Club that were attached to newspaper articles with (shudder) staples. I spent 4 hours removing 3-8 staples from each weekly newsletter from 8 years of newsletters.
Staples are quick solutions for attaching items together, but they are harmful to materials. Just punching two holes in an item alters the strength of the paper and long-term attachment opens the paper up to further damage by rust. Staples have a tendency to rust when not properly stored and that rust spreads onto the surrounding materials.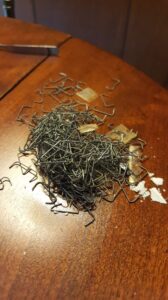 Despite the hours of removing staples from these items, and sticking myself a few times, I'm happy to do it. I like getting my hands on archival materials, to help keep the items in good condition for future use. From home, I can't copy the newspaper articles which are attached to the newsletters, but they will need to be copied to prevent further damage to the surrounding materials (post-1850 newspaper can break down so quickly that it will discolor materials within a few years if not stored properly).
This task also helped me get away from my computer screen. Most of the at-home activities that I can do require a lot of typing, ex. finding aids and digitizing catalog cards, working on projects that I don't need access to our collections for.
Webinars, which often take me a few days to get through, are in abundance nowadays; I've even found some niche topics that are quite fun. Keeping up on changes in the archival field are important as different developments in how collections are handled or changing standards can happen on a regular basis. Just in the month of April I've viewed on average a webinar a day. Some interesting ones have introduced me to meditation and mindfulness, which are important for keeping the anxiety at bay during these uncertain times.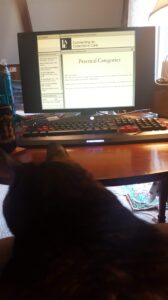 My cat is happy I'm home, though annoyed that staring at me doesn't get me up to pet her all the time. She's sitting on my lap as I write this blog, while I'm awkwardly turned towards my keyboard so I don't disturb her sleep (she's spoiled). She's sat through quite a few webinars with me, especially enjoying one on book repair, and even sat in on a meeting with other archivists and librarians in the area as we spoke about how our institutions are dealing with closures and options for reopening.
I'm anxious to get back to work, to be able to help people find answers to their research questions, and to be immersed in our collections again. Our collections tell the story of Geneva, and collecting our stories from the present are just as important.
Collecting present day is imperative to be able to show a fuller picture of what Geneva was like for future researchers. People are surprised when I tell them we collect everything to do with Geneva, even present day materials, but history happens every day. We make history every day. Yesterday is already history. An hour ago is in our past.
What might future historians and generations need to understand the COVID-19 Pandemic?  All of us have a story to tell on how the pandemic is affecting our lives.  Are you in an at-risk group or have someone in your home who is?  How has the stay-at-home order affected you?  Do you shop less or use a grocery delivery service?  For students at home, what has your experience been like? What is your new normal?    Join the Geneva Historical Society in documenting this historic moment through "We Stay At Home: A Record of Geneva During the 2020 Pandemic."  Share your story through narratives (a letter, poem, song, recipes, and short story), images (photographs, screenshots of social media, memes), audio, videos, and files (emails, flyers, announcement, text messages, tweets).  To share your story, go to  https://historicgeneva.org/programs-and-exhibits/we-stayed-at-home/.