New Acquisitions
By John Marks, Curator of Collections
Our current exhibit, New Acquisitions,  highlights a small portion of things we've received in the last three years. The pandemic didn't stop people from donating artifacts. In fact, people had more time to clean house or think about downsizing their belongings.
Becky and I have written about gaps in our collection and what we would like to have . Most years I do a "year in review" blog article with examples of items we've received. Our goal is to encourage more donations, particularly of areas that are under-represented.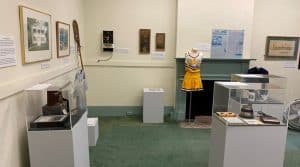 The exhibit is a case of "showing is better than telling." We hope that it will inspire people to think about what things tell Geneva's stories. As we've emphasized in our "My Geneva Is…" exhibit series, Geneva's history and objects that are part of it may be different for each person. What people save and donate says something about them.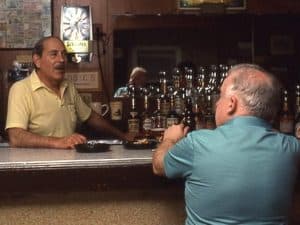 I like advertising items. Some have been phased out, like ashtrays and free matchbooks with a business name. We've received a Humphrey Press ashtray, a plastic drink coaster from the Lafayette Inn, and a 2023 metal Mr. Twistee spoon. We collect objects that may have been used anywhere but have a local story. The Schmidt's Beer clock in the exhibit hung behind Cosie Fospero's bar for decades, as shown in the photo on the right.
We've benefitted from families who are downsizing or handling an estate. Sales and auctions are an efficient way of dealing with a lot of stuff, but we thank those who call us with Geneva items. The exhibit includes art, personal items, and a 1960s surgical gown.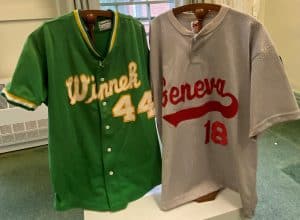 As organizations (churches, schools, camps) disband, we've been called to come in and collect things to preserve their history. Other people have saved items on their own and donated them to us. We have things from DeSales High School, Boy Scouts of America Camp Babcock-Hovey, Grace Willowdale Episcopal Church, and the American Legion home on Lochland Road.
People often ask, "What is it you want?" when we ask for more Geneva history. It's a fair question, and the honest answer is, "What do you have and why did you save it?" We may not know what we're looking for until we hear your story. Regardless if we can accept a donation or not, we always say, "Thanks for thinking of us!"