The Landscapes of F.M. Tuttle
By John Marks, Curator of Collections
We read and appreciate the comments on our blogs. After my February blog about acquiring F.M Tuttle's portraits of his parents , a reader asked to see the artist's landscapes.
The local newspapers regularly promoted Francis Marion Tuttle's (1839-1910) latest paintings. They were often displayed in the window of a downtown bookstore or the writer may have seen the work at Tuttle's studio. He was well-known for his portraits.  In May 1876, the Geneva Gazette noted, "Our home artist, Mr. F.M. TUTTLE, has just completed a portrait of Capt. J. S. Lewis, which now adorns the wall of his reception room so truthful and life-like that it seems about to exclaim 'All right; come again.'
Tuttle specialized in painting posthumous portraits from memory or with the aid of a photo. Often disease and age changed a loved one's appearance before death. Photos were black and white and people appeared stiff. Tuttle captured subjects in full color as they looked in their prime.
Painting portraits took time, and they had a limited market. On the other hand, landscapes could be done quickly and had a wider audience. As an avid boater, Tuttle was very familiar with Seneca Lake and its shorelines. Most of his landscapes were on small boards approximately 7 inches high by 14 inches wide. Based on newspaper articles, he may have painted hundreds of such scenes in his career.

"Mr. F. M. Tuttle has lately produced several very fine panel pictures – exceedingly good landscapes for the brief time employed in sketching and the price asked for them –  $2 to $4." – Geneva Gazette, November 3, 1883

"Mr. F.M. Tuttle finds constant employment for his brush and easel.  He has produced many fine panel pictures this season with subject from nature, chiefly views on Seneca Lake which are the more valuable  to home lover of art because familiar.  Mr. Tuttle has disposed of about twenty such sketches during the present week at remunerative rates."
Geneva Gazette, September 10, 1886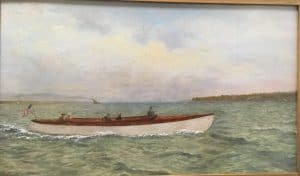 Tuttle's scenes were rarely identified on the reverse of the paintings. Some are more recognizable than others. This appears to be on the west side of Seneca Lake, and boat collectors identify this as a Fay & Bowen launch made in Geneva.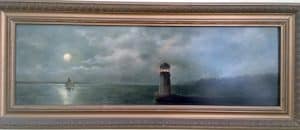 The lighthouse pier was a Geneva landmark. A freestanding pier to the south of Long Pier, it broke waves and created a calm harbor for steamboats and canal barges on the lakefront.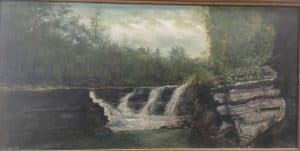 This scene is "The Lower Falls at Taughannock" on Cayuga Lake. Tuttle painted on other Finger Lakes which made identifying untitled scenes more difficult.
A good biography of Francis Tuttle may be found at http://dianrez.blogspot.com/. A 2015 blog written by Alice Askins focused on the challenges and discrimination Tuttle faced as a Deaf person in 19th century Geneva.