Corcoran Family Scrapbook
By John Marks, Curator of Collections and Exhibits
In October I mentioned that Hobart & William Smith Public History students were creating posters on aspects of Geneva and World War II. The posters were on display from November to mid-December. Issues ranged from labor shortages during the war to the German POW camp on Pre-Emption Street, but a number of students focused on the social scene and nightlife during that time. Two basic questions that motivated them were: what was Geneva like during the war, and how did people stay happy?
Eric Lewis loaned us a family scrapbook that addresses the students' questions. It documents his grandparents Francis George Corcoran and Marion McGuigan before and after they were married.
Frank joined the Navy in November 1943 and was sent 15 miles away to Sampson for basic training.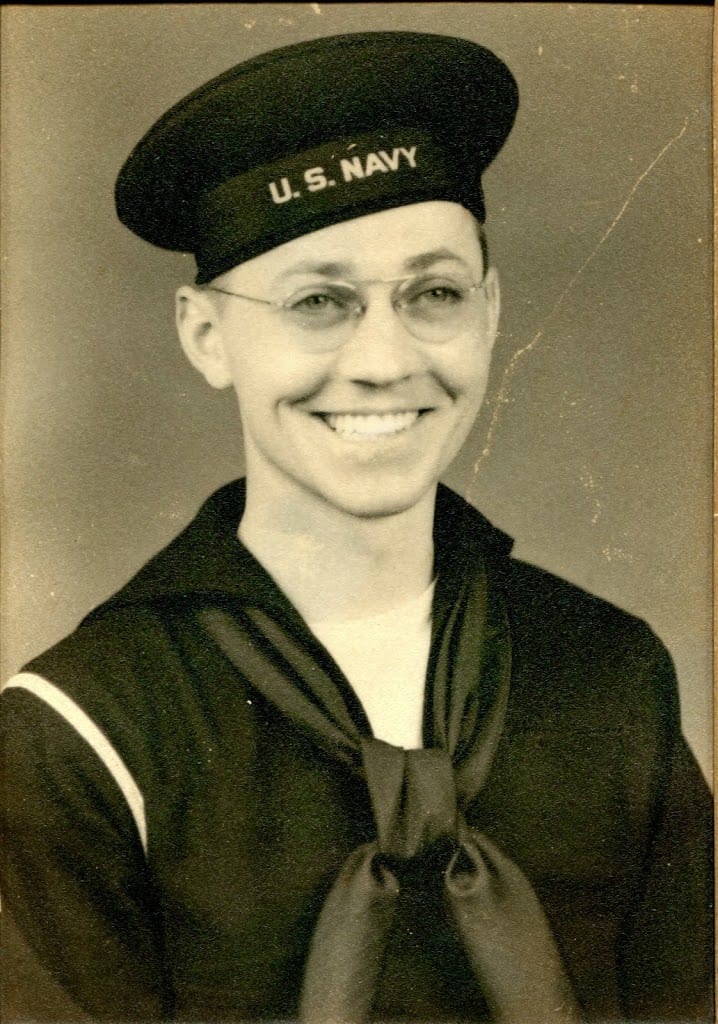 The photos were all taken outside in a neighborhood so they don't show us much in the way of Geneva during the war. However, they seem to be large gatherings of family and friends, a pastime neither rationed nor prohibited. Frank was fortunate to be close enough to home to be part of festivities when on leave from basic training.
As for happiness, people continued to fall in love and get married, as Frank and Marion did on May 18, 1944. Frank was still stationed in the US and had leave to come back to Geneva for the wedding. The many photos look like any wedding, regardless of events in Europe and the Pacific.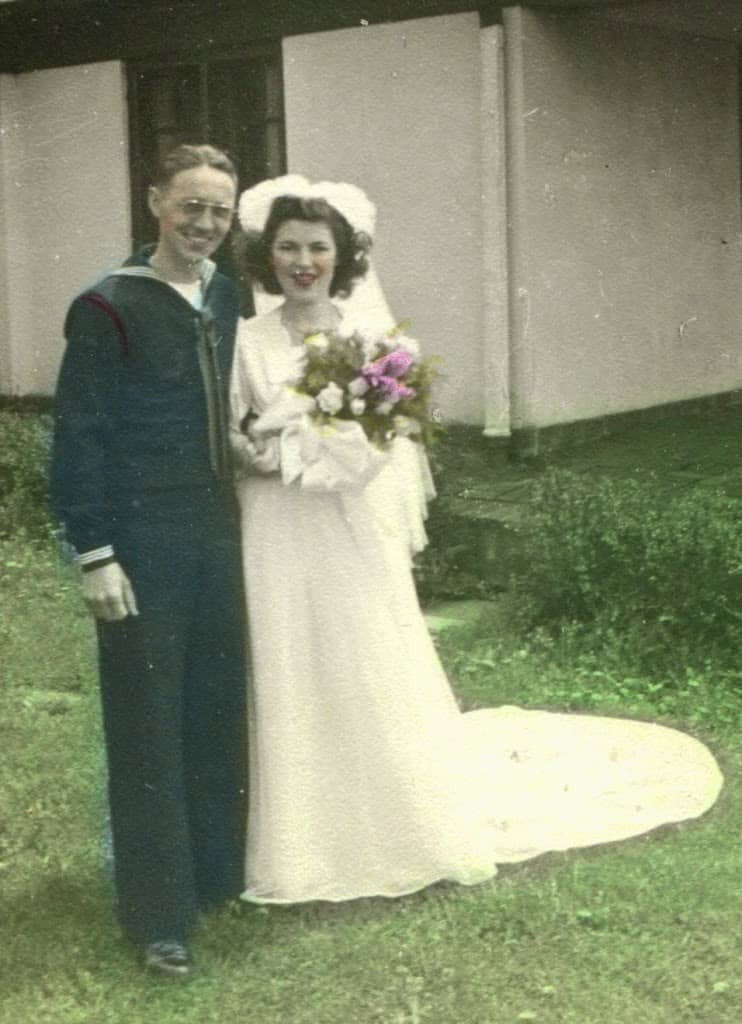 The scrapbook has numerous postcards and some letters. Servicemen and women had free postage privileges but national security limited about what they could write. Most cards are about missing the recipient or the monotony of service: drilling, waiting to drill, or waiting for mail. Once shipped overseas, one's location was limited to "at sea" or "somewhere in Belgium".
In 1945 things did get interesting for Frank, although it's not obvious from the way things are presented in the scrapbook. There is a water-stained letter dated "Mar. 14 at sea" and an envelope postmarked Mar. 26 1945 with an address for the USS Franklin. The next page has a typed letter from a friend that said, "I was pleased to learn some of the particulars about your safe return from that inferno that raged on the Franklin…"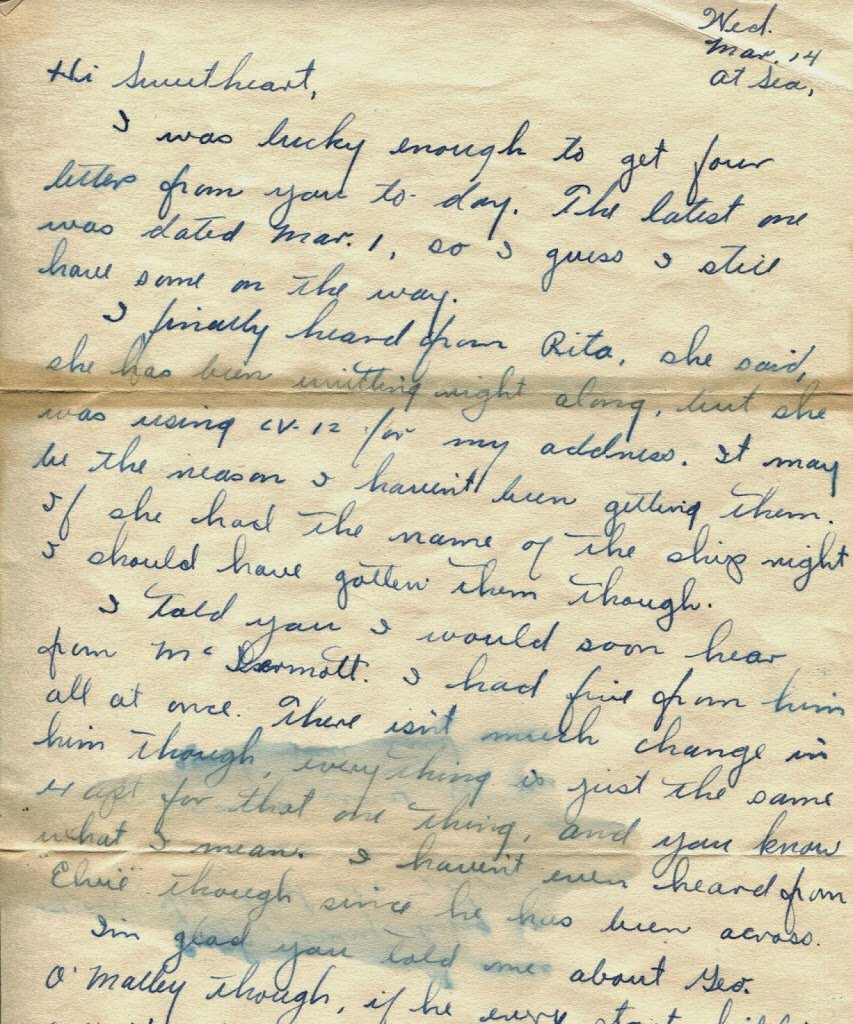 The USS Franklin was an aircraft carrier off the coast of Japan that was attacked by a single plane on March 19, 1945. Two bombs dropped on the centerline and aft sections that ripped through several decks, setting off fires and explosions. Official Navy casualty figures were 724 killed and 265 wounded; some historians feel the toll was higher. The ship sustained the second largest naval casualties of the war, after the USS Arizona that was hit at Pearl Harbor.
Like many survivors, Frank jumped into the ocean, with the letter in his pocket, and was picked up by another ship. The letter was eventually mailed when the survivors reached Pearl Harbor.
Frank survived the war, came to Geneva, and raised a family. The later photos of family life illustrate something World War II veterans talk about: they did their duty but then they just wanted to get home and get on with their lives. Only in hindsight have many World War II veterans appreciated the scope of their contributions.