Astounding The Crowd: Bicycling in Geneva
By Alice Askins, Education Coordinator at Rose Hill Mansion
In June 1881, Geneva became bicycle-conscious.  The Advertiser reported on June 7:
Geneva had four bicycles
"Pulteney Park attracts quite a crowd these pleasant evenings.  The wheelmen's exhibition as well as the cool breeze from the lake makes [sic] one forget the heat."
"One of our riders the other day, while astounding the crowd by his wonderful feats near the fountain in the park was unfortunate enough to take a header, landing himself and his bicycle in the midst of the turbulent water (a header was falling head first over your handlebars which was very easy to do on the penny farthing bikes of the time.  And no helmets!] . . . . "
"Wat. Dorchester is becoming quite an adept with the wheel.  His fine riding is much spoken of (undoubtedly got his bike at Dorchester and Rose, a hardware store that sold Pope's Columbias and Cunningham's English bicycles).
Mr. Arthur Wader is fast getting his forty-eight inch under control (48" was the diameter of his front wheel)
"Fred. Nester still holds his place as the easy rider.  His careless, indifferent riding is very amusing.  Fred. in time we think will be the crack wheelman of Geneva."
Groups of riders from Canandaigua, Clifton Springs, Phelps, and Waterloo were visiting Geneva.
"It will not be long before Geneva will be able to boast of a bicycle club . . . the sooner the better.  A club would certainly attract attention, and others who will probably buy later will buy now."
The paper stated that although riders were "likely to receive numerous falls and bruises, there is not a more attractive or healthy exercise known.  Doctors recommend it, and many physicians are using the machine now instead of the horse in making their calls."
By September, expectations were realized.  The paper mentioned on September 13:  "Three members of the Geneva Bicycle club made the run to Cayuga Lake and return[ed] last Thursday afternoon, being gone about five or six hours.  They were M. Van Rensselaer, A. B. Wader, and Dell Nester."  Later that month, the Advertiser encouraged local riders to practice for races with cyclists from other towns at the upcoming Union Fair.  Geneva riders, though, did not enter, and the Canandaigua bikers won.
Two years later, the Geneva Courier chronicled the third annual meeting of the League of American Wheelmen, held in New York on May 30, 1883:
Five hundred members from all parts of the country were present . . . the organization now including 2,134 bicyclists, 360 being from New York state.  Over 2,000 took part in the parade and the procession, [which] when formed on Fifth avenue, extended from Fortieth to Seventy-sixth street.
Our local bike club may have been quite informal.  In July 1885, the Daily Gazette announced the formation of a bicycle club with seven members:
They have organized regularly and intend to join the Western Association of wheelmen.  On any fine evening several of them may be seen taking a spin, and they all seem to enjoy the exhilarating exercise.  We wonder sometimes that some of the ladies do not purchase tricycles and join in the sport.
The majority of women seem to have held off on biking, but there were in fact a few who did join in the sport, and not on tricycles.  The Advertiser, June 14, 1881: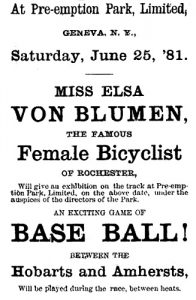 Miss Von Blumen, the paper explained, was about 25.  She took up bicycle riding to improve her health.  After a year of this exercise, she was:
without doubt the fastest and most accomplished bicyclist of the day.  She will appear in FULL RIDING costume, with an improved Columbia Bicycle, and at this exhibition will race with S. K. NESTER'S TROTTER, BABY N.  Mile heats, best two in three.  At the close of this race she will make a race with a running horse, her competitor being a lady.  Admission to Grounds, 25 Cents.
"Full riding costume" may have been mentioned to attract a larger male audience.  While women occasionally wore loose bloomer costumes for gymnastic exercise during this period, Elsa's tight breeches and stockings were very daring.  She did wear a little fringed apron as a concession to modesty.
Curiously, the papers seem not to mention who won these races, but it is probably safe to assume that Elsa did.  Her career seems to have continued for the next few years.   There was enough interest in her that the papers reported occasionally that she had gotten a new bike, or had gotten married in Oswego County.  The last reference I found suggested that her novelty had palled.  On October 20, 1885 the Advertiser reported "The Elsa Von Blumen show at Lyons given recently is pronounced the worst sell of the season, although visited by 2,500 people."
Genevans also heard a little about the exploits of another woman exhibition cyclist.
The Daily Gazette mentioned on June 1, 1883, that "In the great bicycle tournament at Chicago last week, the French woman [actually French-Canadian] Armaindo won."
In May 1888, the Daily Gazette printed an article about women in Washington DC, which was blessed with many miles of wide, paved roads, taking to tricycles.  It wasn't until the 1890s, when large numbers of women took up cycling and that will be my next article.