Dreams Come True: The James M. Cole Circus
By Alice Askins, Education Coordinator at Rose Hill Mansion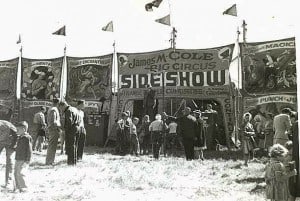 While looking for interesting topics from the 1940s, I ran across the James M. Cole Circus of Penn Yan. This is a little of its story from the 40s, as reported (mostly) in the Geneva Daily Times.
The writers sounded a little envious of Mr. Cole – they always referred to him as a man who had fulfilled his dream. As the Times put it in 1947,
James M. Cole . . . has the unusual distinction of choosing his life's work at the earliest age on record. When a little over three years of age . . . his first circus  . . . . made such an impression on his infant mind that  . . . before he was five years old he had formed a fixed determination to travel with a circus. However, it was not until he had reached sixteen that . . . he joined a travelling show that had visited his hometown. From water boy to circus owner is a long way and Mr. Cole has seen his dream come true.
Mr. Cole started his circus in 1938 as an indoor show that played in schools. In 1940, it started in Penn Yan and traveled through Canandaigua, Waterloo, Watkins Glen, Ithaca, Whitney Point, and Geneva. The next year it opened in Dundee and went on to Bath, Hammondsport, Syracuse, Utica, Cortland, Herkimer, Little Falls and several other cities in the Mohawk and Hudson valleys. After that it went on to schools in New England.
By the summer of 1941, the Cole circus was doing outdoor shows as well as indoor, and the Penn Yan Democrat said that it "has branched out into a canvas show, with a spring and summer schedule." In 1943, the show even did a tour through the southern states.
The school shows were often benefits for Senior class projects or other causes, and the Coles continued their good works with the outdoor shows as well. In May 1947, for example, all tickets bought before circus day in Penn Yan benefited Rotary Club youth programs.
The Cole circus featured such artists as Miacuha, the Wonder Girl of South America, a wire walker; Millie May, Queen of the Air; Mademoiselle Margurette, an aerialist; the Great Bartoni troupe of bareback riders; the Aerial Smalls, stars of the double trapeze; and Billy Barton, 14-year-old artist of the Cloud Swing. By 1946, Cole had signed up the Conley troop of bareback riders; Alvarado, the Latin American wirewalker; Capt. Eugene Christey and his jungle cats; and Tama Frank, famed knife thrower.
Though the circus included a variety of artists, the Coles were best known for their elephant acts. First came Jumbo, who, the Times explained, belonged to Captain Rudy Mueller and was "the only elephant to appear in a current success on Broadway." The show was Billy Rose's Jumbo, which was later made into a movie. Based on newspaper account "she can draw herself a drink from a tap, and in fact…can do anything she is told to do." Jumbo performed with a trained camel named Sanya, a Great Dane named Aster, and a Shetland pony named Prince.  Unfortunately, the paper did not describe the act, only mentioning that it was one of the finest animal acts ever presented. Jumbo  occasionally appeared in movies, like Elephant Boy with Sabu, and performed on radio where she trumpeted on cue, "sang," (again, not described,) and did "several other acts calling for unusual animal perception."
Eventually, the Coles seem to have wanted their very own elephants. Their first, Frieda, was a veteran of five other circuses and joined the Cole Circus in April 1946. Not only was Frieda the star of the Cole circus, she was often in the paper. In October 1946, for example, she led the children through Penn Yan on Halloween.
"Frieda" …will be prima donna of the giant community Halloween celebration and parade planned for the youngsters of the community… [she] will lead the snake dance which is scheduled to form at the Wagner Hotel at 7 p.m. and proceed down Main street.… With the big elephant will be cows and other animals, and pets of the children taking part.…
This sounds like a delightful experience. Did anyone out there dance with Frieda, cows, and others on Halloween?
Frieda was also a troublemaker.
Frieda Does It Again—

Elephants Take Moonlight Walk in Penn Yan Streets

Penn Yan, May 27 [1947]—Freida [sic] has done it again.  Or at least [she] is being blamed for an escapade which saw two elephants on a middle-of-the-night parade through the Main street here…

Frieda has a known penchant for releasing herself and other elephants of the Cole herd from their shackles, and last night she must have done it again.  Frieda and Dorothy, the circus pet, a 290-pound baby elephant strolled down the street about 2:30 a. m., through the business section from the fairgrounds to the post office.

Then, nonchalantly, they turned around, walked west to Maiden Lane where they were met by the village police officers on duty, Charles Pitcher and Robert Alexander.…

Jimmy Cole and the elephant trainer, John Pugh, showed up about then, having missed the elephants from the lot.  Quietly, they herded the non-reluctant elephants back to the fairgrounds.

Frieda once released the whole herd from their shackles, even to carefully removing their head-stalls.…
At one point the Coles had five elephants, but the ones the papers mentioned most often besides Frieda were Elizabeth and Dorothy. I did not find much on Elizabeth, but Dorothy came directly from Ceylon at nine months old. Baby Dorothy was also very popular. She was billed as the smallest elephant in the circus world, and the paper reported that she searched through peoples' pockets in hopes of finding treats. By the time he was seven, James Cole Jr. was working the elephants in their act, and for some years he was "the youngest elephant trainer in the country."
Coming up next, the circus and World War II.