Modern Day Figure Skating in Geneva
By Becky Chapin, Archivist
I was never interested in school sports like soccer or basketball as a kid, and I was actually pretty horrible at all of those sports in gym class. I was quite young when I started figure skating, about 4 or 5. Originally, my mom took an adult lesson at the Rec Center to test it out for my sister and I; she continued these lesson for a few years too. The coach, Debbi Oswald, told my mom that she was thinking of starting a skating club, and we became some of the original members of the Finger Lakes Figure Skating Club.
Arguably, skating involves a lot more coordination than typical sports. You have to balance on a thin blade that has a toe pick in the front, throw yourself in the air, spin in circles, or do incredibly difficult footwork. And not only do you have to pass tests in skating to show you're technically proficient, you also have to show your artistic ability to move up to the next levels: Pre-Preliminary, Preliminary, Pre-Juvenile, Juvenile, Intermediate, Novice, Junior, and Senior.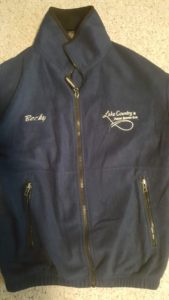 I started out at the Finger Lakes Figure Skating Club which was later renamed the Lake Country Figure Skating Club (due to confusion with the Skating Club of the Finger Lakes). I did the Learn to Skate program and performed in two shows a year, one for Christmas and one in the spring. Back then, the Geneva Recreation Center was not an enclosed rink, so it got COLD in the winter, but once I got older I barely noticed because I was working so hard.
I completed the Learn to Skate program before middle school; I still have my sweatshirt with the badges sewn on the sleeves that we got by passing the tests. By the time I was in high school, I was entering the Preliminary range and I started cutting music for different members of the club for our shows. Debbi retired and we hired a coach from Rochester who pushed us harder to take the testing, move up, and compete. Several of our members moved on to other coaches, teams, and competed at higher levels or changed to ice dancing due to injuries. I traveled to different competitions in the area, eventually placing first in a few and I still have all my medals!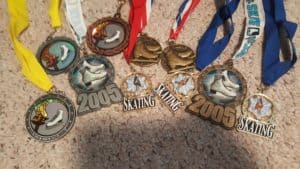 We competed with the hockey teams for our 3 days a week ice time, we got up at 6:45am on Sunday morning to make our ice time at 7:45 (before the hockey teams), and we pushed ourselves through the cold to be able to do jumps and spins in between complicated footwork. I loved skating at the Rec Center, even in the exposed rink. When I was home for college, coming in for open skate, the long time staff remembered me and always asked after me.
But like any small club, we got pushed out by the bigger hockey teams. Hobart hockey would supersede our ice time if they had games or needed extra ice time and at times, despite the great staff, it felt as if our club wasn't as important.
By the time I graduated high school I was working on my axel, double salchow, double toe, and double loop and attempting to do a death drop spin. I didn't continue on in skating in college, but when I was in grad school, my campus was right across from the ice rink. I used to take a bus across campus and cross the busy highway during the week to use the ice. Usually the rink was empty except for me.
Figure skating, like many other sports, is expensive. My final pair of figure skates, now on display in Come Out and Play: Sports and Recreations in Geneva with much older models, cost $200-300 for the boots and $50 for each blade. We purchased them in Rochester and had them fitted exactly to my feet by baking the boots in an oven and putting them on my feet to mold them to my exact measurements. Costumes, for an Olympic hopeful, cost anywhere from $1,000 to $5,000 with boots costing upwards of the same. Money for club fees, which includes the USFSA or international equivalent affiliation, ice time, coaching, testing fees, and competition fees is also expensive on a yearly basis, even if you are just a serious recreational skater.
Interest in the club waned after most of the older members left the area for college or moved to larger clubs and, unfortunately, the Lake Country Figure Skating Club disbanded shortly after I left high school. I still see our team photos up on the wall at Cam's Pizzeria on Exchange St, even though they're a bit faded from time. I can still do most of the spins and easier jumps with a little warm up, and it was always fun to surprise my friends by showing them what I could do. It would be 10 years ago this year that I skated in my last show with the club and I look back with fond memories of my time in the Lake Country Figure Skating Club.