I'll See You in My Dreams: 1920s Records and Record Players
By John Marks, Curator of Collections
This month my blog is inspired by a fast-approaching deadline and my love of scrolling through old online newspapers. I've been researching Geneva in the 1920s for a new exhibit. NYS Historic Newspapers has only digitized the Geneva Daily Times through 1923, due to copyright, but I found enough information to get me started.
After pondering a few topics, I settled on music machines and recordings being sold in Geneva. Thomas Edison invented the cylinder phonograph in 1877, and recorded music became popular in the late 19th and early 20th centuries. Early "talking machines," as they were generically described, used an acoustic horn to play recordings. In the 1910s, makers bent the horn downward and enclosed it in a cabinet behind a screen. The machine was more aesthetically pleasing and could be put in a large case as fine parlor furniture.
Production of phonographs halted during World War I. By the post-war 1920s, there were many companies making their own machines and records. The two companies that appeared most often in the Geneva Daily Times were Columbia and Victrola.
Columbia Grafonolas and records seemed more heavily advertised in the Daily Times than Victrola products. Each month there was a corporate ad announcing new releases. Categories included Dance Music, Song Hits, Instrumental Music, Gems from Opera, and Comic Talking Records. The dance records tempos were set for fox trot and waltz, rather than the energetic dances commonly associated with the 1920s. Local merchants advertised the different models of machines, available in prices for a wide range of incomes. Dealers included Seneca Music & Jewelry Store, Ferris Music Shoppe, and Lynch Furniture.
In the early 1920s Victrola ads focused on their various models, rather than new recordings. The expensive furniture types were illustrated with fashionable people in elegant rooms. The portable, less expensive models seemed aimed at young people to use on picnics and outings. On the first of the month Victor Records announced new releases. Sol Golos and Louis Klopfer were local Victrola merchants. When famous musicians came to the Smith Opera House, such as American baritone Reinald Werrenrath in 1923, they used the opportunity to sell more records.
Most of the recorded songs advertised in the 1920s Daily Times are no longer popular. Many were novelty or period songs that didn't age well over time. However, I was struck by how many songs that were first written or achieved popularity in the 1920s are still popular today. ("Still popular" is subjective but I think most readers will recognize them.)
"Frankie and Johnny" was written in 1904 but was recorded by many groups in the 1920s. Likewise, "St. Louis Blues", written in 1914 by W.C. Handy, gained popularity and was recorded by Louis Armstrong. Songs that debuted in the decade included "I'll See You in My Dreams" and "It Had to Be You" (1924), "Sweet Georgia Brown" (1925), and "Stardust" (1927).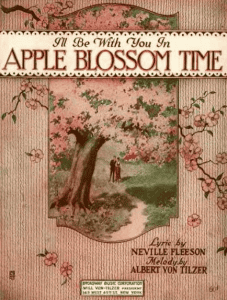 The last example is familiar to anyone who remembers, or was in, the Appleknocker Drum and Bugle Corps. "I'll Be With You in Apple Blossom Time" was written in 1920. At least four versions were recorded that year. Nora Bayes introduced the song, but Charles Harrison's recording, was the most popular, reaching #2 on the music charts. In addition to being the Appleknocker's signature tune, it continues to show up on albums as part of the great American songbook.