People from the St. Patrick's Cemetery 2023 Tour
By John Marks, Curator
Since 2019, we've led fall tours of selected gravesites in St. Patrick's Roman Catholic cemetery. In the summer I begin walking around a section of the cemetery, taking photos of monuments and headstones. My process is pretty random. I'm attracted to interesting markers, and to names I recognize. I start with a lot of gravesites because there are many for which I won't find information.
In October the tour focused on Old Lots 1 and 2, near East North Street. I was inspired by both the names, and the fact that we had photographs connected to the people. Photos are  clumsy to pass around during a walking tour, but they work well for a blog.
Thomas H. Sweeney (1850-1906) may be remembered for his real estate and insurance business. Sweeney & Sons had a distinctive building on Seneca Street opposite the Geneva Theater (now Smith Opera House). It was torn down in 1966 as part of federal Urban Renewal.
As a young man, Sweeney worked at Willard State Hospital as a watchman and general storekeeper. He came to Geneva in 1877, opening a clothing store. Active in Democratic politics, he was Excise Commissioner from 1880 to 1885, and village Police Justice from 1885 to 1891.
Born in County Queens, Ireland, Daniel Moore (1843-1923) came to Geneva in 1851 with his parents and five siblings. He learned to make wood window sashes, blinds, and doors. He was elected as a village trustee in 1898, and in 1902 became Geneva's first Irish mayor. This was a milestone, considering the anti-Irish sentiment in the village through most of the 1800s.
I recognized Patrick Hickey (1848-1935) from a photo of his blacksmith shop. It was between Milton and Castle Streets and Main Street. Today, Byrne Dairy is at that location.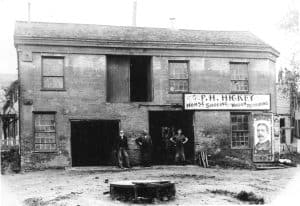 Hickey was a blacksmith from 1865 to 1913. While age was probably a factor for retirement, automobiles were signaling the end of the blacksmith trade.  An infant daughter, Frances (1877-1878), is listed on the gravestone. She died of diphtheria, which claimed a number of lives in Geneva that year.
I found three early Geneva policemen within a short distance of each other. Daniel Kane (1854-1924) was born and educated in Geneva. After working in the grocery business for a time, he was one of the first four policeman hired in 1882. He became chief of police in 1891, dying in office in 1924.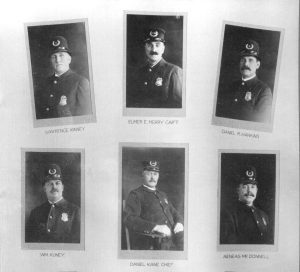 Daniel R. Hawkins (1866-1940) was hired as a  patrolman in 1893. When Geneva became a city in 1898, he was appointed a court officer, or bailiff. He retired in 1934 as a sergeant.
Aeneas McDonnell (1863-1924), often misspelled as McDonald, is the only Geneva Police Department officer killed in the line of duty. Born in Castlebar, County Mayo, Ireland, he came to the US in 1882 and worked on railroads around this area. In 1898 he was appointed patrolman. On February 19, 1924, Howard Keavin and Edward Doyle were seen robbing the safe at the New York Central Railroad depot. During a chase, Keavin shot McDonnell, who died from his injuries. In addition to his cemetery marker, there is also a monument for Aeneas McDonald (sic) in front of the public safety building on Exchange Street.
For more information about St. Patrick's Cemetery, read the following blog articles