St. Patrick's Cemetery, Part 2
By Becky Chapin, Archivist
There are many veterans buried in St. Patrick's Cemetery who served our country at various times. Some of the earliest include those who served in the Civil War including Thomas Hawkins, Nicholas McDonough, and Daniel A O'Neill.
Born in Ireland on June 7, 1825, Thomas Hawkins started his journey to the United States in 1848, arriving on February 24, 1849, and naturalized in 1852. His parents and brothers must have also made the journey, as most are buried in the area. Thomas would end up serving in Company G, 111th regiment of the NY Volunteers during the Civil War. He was proud of his service and often marched in parades in town with his comrades. Thomas' first wife was Abigail Rogers; they had 6 children together before Abigail died in 1873 at age 38 (she is buried with Thomas). Thomas married his second wife Susan Doran, of Ireland, prior to the 1875 census which showed 9 children living in the household.

Thomas' parents were Michael and Mary Hawkins, his children were Abraham, Mary Jane, Michael, Thomas W, Theresa, Abigail, Margaret, Daniel R, and Lizzie (who would died in 1878 at the age of 10 of diphtheria). At the time of his death in 1901, Thomas was 76 years old with 7 surviving children; Susan would die in 1908 (buried here). His sons are also buried here: Abraham became a tinsmith; Thomas W  would become the proprietor of the California Wine and Kentucky Liquor Store at 494 Exchange St though would move out to Ohio; Daniel R was a Geneva fireman and policeman, served in Company B National Guard, and was a plumber/steamfitter by trade; and Michael, proprietor of the Club House Hotel and fireman, died at age 39 from pneumonia.
Lieutenant Nicholas McDonough was just 20 years old at the time of his death which occurred during the Battle of Pleasant Hill (Louisiana) in the Civil War. He was born to Nicholas and Susan McDonough circa 1845 in Ireland, though when the family immigrated is unclear. Nicholas Sr died in May 1854. The 1855 census shows Susan, Nicholas Jr, and his older sister Bridget living in the Doile (Doyle) household; though the census says Susan's relation to John Doile is 'mother' and the children were siblings, I couldn't confirm it.
By 1860, the McDonoughs are living next door to the Doyles and there are two older female McDonoughs also living there. Teresa, at 21, is working as a dressmaker, Bridget is working as a milliner, and Nicholas is a mason. The 1862 directory shows Nicholas living with Susan at 19 Hamilton St, working as a mason.
Nicholas enrolled in the army on September 6, 1862 in Geneva to serve three years, mustering in as a 2nd Lt. in Company E on November 21st. He became a First Lieutenant on December 10, 1863, but just months later he was wounded in action on April 9th. Nicholas would die from his wounds on May 8, 1864.
Little could be found about Daniel O'Neill. He must have arrived in America from Derry, Ireland shortly before 1850, as he is captured in that year's census living in Seneca Falls with CC and Eleanor Coleman at the age of 18. CC was a harnessmaker and Daniel was working for him. He was naturalized on November 9, 1855 and had moved from Seneca Falls to Geneva during the process. According to his gravestone, he was a corporal in Company A, 33th NY Infantry. Unfortunately, not much more information can be found on the family but Hannah lived to age 96. Her obituary says she moved here from Ireland as a young girl and spent 30 years in Waterloo before moving to Auburn to live with her cousin. She never remarried.
Frank N Balestreri was born in Syracuse in 1897. His parents were natives of Italy as well as his mother's brothers who also lived in the same household. His large family resided at 29 Herbert Street, he had five sisters and 4 brothers: Nina, Sarah, Angelina, Mary, Marguerite, Francis, James, Leo, and Joe. Frank had been employed at Geneva Preserving Company along with several family members. At 21 years old he was drafted  into World War I as a private with Company 31. Shortly after arriving at Camp Wheeler in Macon, GA in 1918 he took ill with pneumonia and passed away.
Mariano Como was born in Alcamo, Sicily, Italy in 1893 or 1894 (records are unclear). He arrived in the United States in June 1912 on the boat Taormena. Como served in the military during World War I, enlisting in June 1917 and honorably discharged at age 26 from Camp Dix in August 1919. His service helped solidify his naturalization in February 1920. Como was a Geneva resident for 53 years, worked in construction, and was involved in a laborer's union.
Odd story from 1929: Mariano was living with the Pasqua family at 68 Exchange St when the home caught on fire. It was alleged that Mrs. Concetta Pasqua was the perpetrator of the crime of arson, though I couldn't confirm if she was ever convicted. It's unlikely as no other mentions in the paper occur. After the death of her husband Santo (also buried here) in 1933 of pneumonia or influenza, she remarries Mariano in 1934. Soon after they separated, citing incompatibility, though she retained his last name. She is buried in St Mary's with her two sons, Lawrence and Louis. Mariano's obituary says his surviving family were his stepsons Jack, Lawrence (who served in World War 2), and Louis Pasqua, two stepdaughters Amelia and Frances, two nieces, and one nephew. At the time of his passing he was living with his nephew, Andrew Bonventre.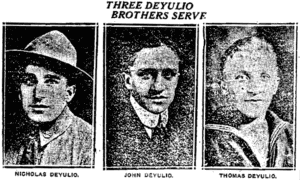 DeYulio was the son of Marion Tielli/Telle and Nicholas DeYulio, both of Italy, born in Syracuse in 1919. The family had previously lived in Pennsylvania before moving to New York , and soon after James' birth they made their way to Geneva where Nicholas was employed by Empire Electric and Gas Co. Nicholas and his brothers Thomas and John  all served in World War I.
James had six siblings: Josephine, Elvida, Wilson, Fay, Lucy, and Sylvia. James married Mary Tandle and together they had five children: Thomas, Nicholas, Ronald, Donna, and Diane. James served in World War II in the Army as a staff sergeant. Nicholas (his son) also enlisted in the army in 1962 and was stationed in Korea.
Mary Tandle DeYulio was the daughter of Nicholas and Frances Tandle; she had seven sisters and three brothers. Nicholas Tandle was a native Italian who immigrated at age 9 with his family. He was a veteran of World War I, had worked for Geneva Forge, the Lehigh Valley Railroad, and Hobart College. Both Nicholas and Frances are also buried in St Patrick's
Edward Frank was born to Edward Sr. and Anna Frank (1881-1943) on April 10, 1903. Edward Sr. (1877-1949) was born in Waterloo, but lived most of his life in Geneva as a moulder for Andes Range & Furnace Corp. The Franks lived on South West St, Edward's family was from Germany and Anna's was from Ireland. Edward Jr. had a brother, J Wayne, who died at the age of 3 from pneumonia and sisters, Elizabeth and Irene.
Prior to his enlistment in the army in March 1944, Edward Jr. worked at various occupations in the manufacture of paper goods and had been listed as a musician in the 1940 census. He was also an organist for St Stephen's Church. Edward Sr., Anna, and J Wayne are also buried here.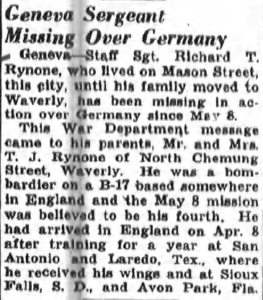 Richard Rynone was born on September 2, 1921 to Thomas and Mary (Zeoli) Rynone, natives of Italy. His parents were married in May 1920 and the family lived in the area for several years before moving to Waverly, New York. The 1940 census shows Richard had three younger siblings: Anita, Eldean, and Thomas and the family lived with his grandmother Mary Zeoli. He enlisted on April 5, 1942 in the Air Force and served as a bombardier; he was an engineer and gunner on a Flying Fortress based in England. He went missing  during his fourth mission over Germany on May 8, 1944 and was presumed dead a year later.
Sgt. Charles O'Connor lost his father when he was about 18 years old, right around the time he enlisted in the military; his record shows he belonged to Company B, 108th Infantry as a private on September 16, 1932. Though he was absent from Geneva for a few years, by 1937 he was listed in directories as US Army through 1942. O'Connor was sent to Italy during World War II where he was killed in action in May 1944 as a sergeant for the 349th Infantry, 88th Division. His mother, Mary, was notified on June 16th and relayed the information to the Geneva Daily Times.
Charles O'Connor Sr, his wife Mary, and their daughter Margaret are also buried here. Their other children were Charles, Thomas, Elizabeth, James and Frances. Tragically, Charles Sr died by suicide in 1932 at the age of 42, just months after his mother (Mary, buried in St Patrick's) passed away.
For more information about St. Patrick's Cemetery, read St. Patrick's Cemetery, Part 1