More Stories from St. Patrick's Cemetery
By John Marks, Curator of Collections
In October, Historic Geneva gave its third consecutive tour of St. Patrick's Roman Catholic Cemetery. We have been working our way from the North Street entrance toward the railroad tracks. This year we pointed out some interesting markers, familiar names, and less well-known stories.
A number of the Italian grave markers have ceramic photos on them. In 1854 two French photographers invented a way to fire images onto porcelain. Photo plaques of the deceased became popular throughout eastern and Southern Europe, but was not embraced in the British Isles. None of the Irish markers in St. Patrick's have photos.
In 1893 the J.A. Dedouch Company near Chicago began making ceramic photos.  By the 1920s gravestone images were sold in mail order catalogs in various shapes and sizes.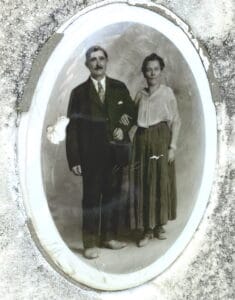 This couple was Louis and Maria Ditulio. Maria died first. The Geneva Daily Times notice for Louis said he "fell dead on the sidewalk in front of St. Francis DeSales Church…on his way to attend the 9 o'clock mass in that church."
Most, but not all, the grave markers in St. Patrick's were professionally made. There are several examples of simple, possibly homemade memorials. Some were cast or welded metal. There are a few concrete markers, molded around steel. The marker for Carmela Valeria was made of cement or fine concrete with letters stamped in while wet. Like many gravestones in St. Patrick's, the inscription is in Italian.
People may remember when the Geneva Housing Authority complex on Pre-Emption Street was called the John J. Chartres Homes. Mr. Chartres (1881-1952) was the first stop on the tour. He came to Geneva as a child and graduated from Hobart College in 1904. For eleven years he and his brother Pierce had the Chartres Orchestra, an in-demand dance band around the city. He was a New York State auditor, and financial consultant to cities including Geneva. In 1960 the city named the new apartments to honor Mr. Chartres.
An eye-catching gravestone was inscribed "Sweetheart's [sic] – Dominick Tucceri and Josephine Damick." They were both 19 years old and died in January 1937. Their story appeared in both the Syracuse and Geneva newspapers; the Geneva Daily Times story listed the young woman as Josephine D'Amico. The two died in a head-on collision with a Greyhound bus at 1:30 am between Waterloo and Border City. Josephine died instantly, Dominick went to the hospital but didn't regain consciousness. Three friends in the car were injured but survived.
The couple were engaged to wed in June that year. There was a funeral service at the North Genesee St. home of Dominick, then mourners processed to the Damick home on Merrill Place. Following a high mass at St. Francis, the couple was buried together.
Sullivan Feligno (1896-1918) was the most interesting story that I researched. His marker said he was killed in action in World War I and listed his unit information.  However, his name did not appear in any list of the dead, nor on the marker in Pulteney Park. Sullivan Flynn appeared in these places, and in the November 9, 1918, Geneva Daily Times, "Sullivan Flynn Dies in France." The paper listed the surviving family members on Center Street. There were no Flynns fitting their description on Center Street, but the names matched Sullivan Feligno's family.
We do not know why he entered service as Flynn. His marker in St. Patrick's Cemetery is the only correct record of his sacrifice.
For more information about St. Patrick's Cemetery, read the following blog articles