Hearing from You: The Rest of the Story
By John Marks, Curator of Collections
Historic Geneva frequently repeats two sentences. The first is, we tell Geneva's stories. The second is, we can't tell stories without your help. Even with our archives and online resources, we don't have all the information. Over the past month, online viewers have graciously filled in the gaps of our stories.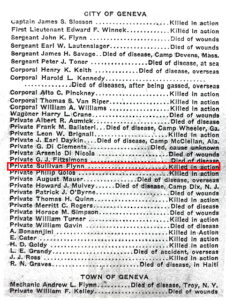 We posted our October tour of St. Patrick's Cemetery online as a video and a blog article. My favorite stop on the tour was a "mystery headstone" for Sullivan Feligno. It detailed Feligno's service and death in World War I, but his name doesn't appear in any official records. Instead, Sullivan Flynn is listed, including on the Pulteney Park monument of Genevans who died in the war.
Two Feligno descendants explained the "two Sullivans" for us. Mr. and Mrs. Philip Feligno came from Italy to Geneva with their sons Sullivan, Daniel, and Anthony. The Italian pronunciation of Feligno sounds close to Flynn. The name may have been changed by clerks, or intentionally by the family. Sullivan entered the service in 1917 under the Flynn name, while his family was still in the city directory as Feligno.
In the 1930s Philip and Anthony became Flynn. Daniel Feligno kept his name. There are Flynns and Felignos who are the same family, which we wouldn't know without a relative explaining it. (These are the things that keep genealogists awake at night.)
In the video, I used a photo of Pronti's Restaurant that was identified as Alexander and Angelo Pronti, along with other people. I said that Angelo was Alex's son, killed at a young age working on the Lehigh Valley Railroad. A relative called to say that the Angelo in the photo was Alex's nephew, not his son. (The same name across multiple generations of one family also keeps genealogists awake at night.)
St. Patrick's Cemetery has many familiar family names, and others that have faded away. When we choose people to talk about on the tour, we don't always know who still has relatives in the city. When the video was shared on Facebook, one viewer shared it with at least eight other people. They were related to Josephine Damick, who died and was buried with her fiancé.
We appreciate and rely upon feedback from our social media followers.
We often post unidentified photos of the last 50 to 70 years and ask for help. Someone is usually able to identify at least one person in a picture. The image of Clyde Mathis got us his name, memories of him both at work and at home, and the names of other cooks at Hobart and William Smith Colleges.
Some viewers take the information of a posted photo and do their own online research, which they share. Online newspaper sites, while not perfect, have made it easier to find information. I posted a photo of the Burgess Tabernacle on North Main Street in 1916. I found some newspaper articles that gave me the date and location. A few days later, a viewer shared the rest of the story that she had found. George Burgess was convicted in 1926 for fraud and sentenced to Auburn Prison.
I'm reminded of the African proverb, "When an old [person] dies, a library burns to the ground." We're all walking repositories of local history. We thank the folks who've shared their knowledge with us, and if you haven't yet, please do!