Local Authors
Geneva and the Finger Lakes have a rich literary heritage.
Elizabeth Stryker Ricord (1788-1865) ran a boarding school called the Geneva Female Seminary (387, 391 and 395 South Main Street).  She taught subjects like mathematics, science, and foreign languages to young women who would otherwise be learning needlework, art, and music.  Eventually Ricord turned her lectures notes on "mental philosophy" into a textbook, Elements of the Philosophy of Mind, Applied to the Development of Thought and Feeling.   With the book's publication, Ricord became the first woman to write a textbook about psychology for women.
From 1828 to 1835 Caroline (1801-1864) and William Kirkland ran a school for boys on South Main Street.  Once the couple moved to Michigan Caroline wrote two novels A New Home: Who'll Follow Or Glimpse of Western Life and Western Clearing.  After William's death in 1846 she continued writing articles for various magazines and served as the editor of the Union Magazine of Literature and Art from 1847-1851.
All five of Caroline's children were born in Geneva.  After the Civil War her son Joeseph (1830-1894) became a lawyer and writer.  He is best known for his novels about the American West including Zury: The Meanest Man in Spring County and The McVeys.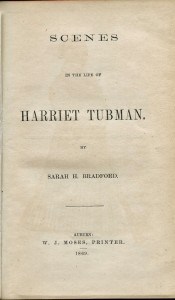 After her husband's death in 1861, Sarah Bradford (1818-1913) opened Mrs. Bradford's School for Young Ladies and Little Girls and ran the school from her home for several years.  She was also a writer.  Along with children's books, she wrote the first history of Geneva (1862) and the first biography of Harriet Tubman (Scenes in the Life of Harriet Tubman).
When Dr. Elizabeth Blackwell (1821-1910) couldn't support herself through a private medical practice, she began giving lectures and writing about sanitation as the key to health.  With a motto of "prevention is better than the cure" what she promoted is considered common sense today – a balanced diet, hygiene, adequate exercise, and self-education.   She would eventually publish over a dozen books including her memoir, Pioneer Work in Opening the Medical Profession to Women Autobiographical Sketches
Although she wasn't born in Geneva, Maria Remington Hemiup (1832 – 1911) was a longtime resident.  An independent thinker, she spent much of her time doing research and her primary topic of interest was science.  Hemiup began writing around 1866.  Along with being a regular contributor to the Geneva Advertiser and National Woman Press Association, she wrote two books Law of Heat and Our World, the Earth a Revolving Engine with a Central Propelling Power.
W.A. Gracey (1866-1944) published The Geneva Times, led the Geneva Choral Society for many years, and wrote music. Several of his religious anthems were published nationally by the John Church Company.  In 1920 he wrote a song for Geneva. His mother Annie Ryder Gracey (1836-1908) was a missionary and author.  She wrote two books about her travels, Eminent Missionary Women and Woman's Foreign Work In Mission Fields.  
Among the first women landscape architects, Marian Cruger Coffin (1876-1957) established her own practice in New York City and worked for some of the wealthiest East Coast families.  Later in her career she took up writing and produced two books, Trees and Shrubs for Landscape Effects (1940) and The Seeing Eye. 
Edwin Becker (1881-1957) wrote several volumes of volumes of poetry and other publications. Drawing his inspiration from his experiences and his childhood, he often wrote of Geneva and Seneca Lake, flowers, birds, scenery, and nature.
Born in Geneva, Robert Fitzerald (1910-1985) grew up in Illinois.  Though he would become a poet, literary critic, and educator, he is best known for his translations of Greek classics.  From 1984-1985 he was the Consultant in Poetry (Poet Laurate) for the Library of Congress.
Other local authors include (but is not limited to) John Robert Allen, Sylvia R. Apple, S.A. Beach, Judy Cummins, Carol Davis, Barb Warner Deane, Cynthia DeFelice, Pamela Deraddo, Jacob Diehm, Kevin Dunn, J. C Eaton (Ann I Goldfarb), Dick Falzoi, Walt Gable, Susan Peterson Gateley, Robert Gregg, Steven Havill, U.P. Hedrick,  Lynn Herzing, Hildegard Moses Hirsch,  Mary Pat Hyland, Susan James , Kamil Kovach, Stephen Kuuisisto, Steven Lahr, Christine Lavin, Olaf Lieberg, Richard Macalpine, Elizabeth Meyette, Cameron Miller, Miriam Grace Monfredo, Robert Morgan, R. Murphy, Marjory Allen Perez George Saunders, Kathryn Shay, Maggie Shayne, Warren Hunting Smith, Jan Surasky, Marc Thomas, and Barbara Wohlschegel.
On Saturday, October 21 the Foundation for Geneva Public Library is hosting Geneva Writes at the Geneva Public Library. This event will bring together five local published authors (John Avanzato, George Gorga, Kerry Lippincott, Molly Pullen, and Max Whelan) who will share individual writing styles and secrets to book writing.  For more information, click here.